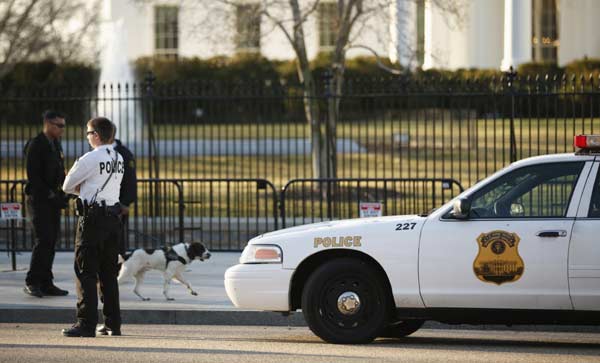 Members of the US Secret Service keep watch at the fence surrounding the White House in Washington March 12, 2015. [Photo/Agencies]
WASHINGTON - Two senior US Secret Service agents are under investigation after driving a government vehicle through an area where their colleagues were investigating a suspicious package, a law enforcement official said on Thursday.
The incident comes on the heels of a series of scandals for the agency that protects the president and his family, and President Barack Obama was disappointed to hear the allegations, White House spokesman Eric Schultz told reporters.
The US House of Representatives Oversight Committee asked Secret Service Director Joe Clancy to provide them a briefing by next Wednesday on what happened.
Obama, who chose Clancy to lead the agency last month after a lengthy external review, has full confidence in the director, said Schultz.
"Nobody has higher standards for the Secret Service than Director Clancy," Schultz said.
The Secret Service has not commented on the incident, which is under investigation by an internal watchdog at the Department of Homeland Security at the request of Clancy.
The Washington Post, which broke the news, said one of the agents is a top member of Obama's protective detail and the other is a senior supervisor in the Washington field office. The Post said they drove through police tape and barricades at the White House just before 11 p.m. EDT (0300 GMT) on March 4 after a party at a bar.
The area was locked down because their colleagues were investigating a package thrown out of a car by a woman who had shouted, "It's a bomb," the newspaper said, citing a police report.
But a law enforcement official familiar with some of the details described the vehicle as moving very slowly and deliberately at about 1 mile per hour (1.6 km per hour).