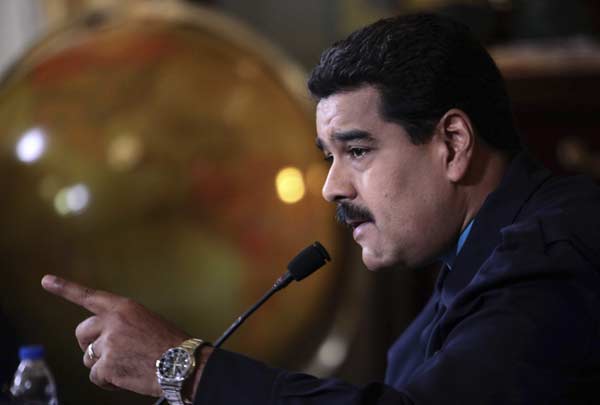 Venezuela's President Nicolas Maduro speaks during a national TV broadcast in Caracas in this March 9, 2015 picture provided by Miraflores Palace. [Photo/Agencies]
CARACAS - Venezuelan President Nicolas Maduro said Monday that the US President Barack Obama has decided to topple his government and force a military intervention in this nation with the approval of sanctions and political measures.
"President Barack Obama, representing the US imperialist elite, has personally decided to take on the task of defeating my government and intervening in Venezuela to control it," Maduro said in a national TV address Monday night.
Earlier Monday, Obama signed an executive order imposing additional sanctions on seven current and former Venezuelan officials over alleged human rights abuses and corruption.
The order bars the Venezuelan individuals -- all of whom are or were part of Venezuela's security apparatus -- from entering the United States, freezes any assets they may have there and prohibits Americans from doing business with them.
This is the third group of sanctions Washington imposed on Caracas' officials in less than four months.
"Obama has taken the most unfair and aggressive step Washington has ever taken toward Venezuela," Maduro said.
He also hailed the seven officials sanctioned by the White House as "heroes," and named national intelligence chief Gustavo Gonzalez as new Interior Minister.