Beijing readies vessels and aircraft to scour fresh search areas
China has ruled out the possibility of hijacking or a terror attack by a Chinese on the missing Malaysia Airlines jetliner and has diverted its rescue teams to the Indian Ocean.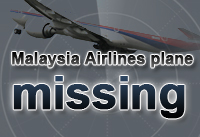 Passengers' and their nationalities:
Chinese 154 
Malaysia 38
India 5
Indonesia 7
Australia 6
France 4
USA 3 
New Zealand 2
Ukraine 2
Canada 2
Russia 1
Italy 1
Netherlands 1
Austria 1
"Background checks on all passengers from the Chinese mainland aboard the missing aircraft did not find any evidence that they might have hijacked or launched a terror attack on the jet," said Chinese Ambassador to Malaysia, Huang Huikang.
The Boeing 777-200, which went missing early on March 8 on a flight from Kuala Lumpur to Beijing with 239 people on board, including 154 Chinese, has triggered an unprecedented multinational search, with the number of partners involved reaching 26.
Malaysian authorities say the aircraft changed its course and have asked the passengers' countries of origin to check the backgrounds of their citizens.
Based on latest information, Malaysia said the new search areas encompass a northern corridor stretching approximately from the borders of Kazakhstan and Turkmenistan to northern Thailand, and a southern one from Indonesia to the southern Indian Ocean.
Australia and Indonesia are playing an active role in the southern corridor, while China and Kazakhstan are among the main partners in the north, Malaysia's acting Transport Minister Hishammuddin Hussein said at a news conference on Tuesday.
Chinese Foreign Ministry spokesman Hong Lei said China has mobilized its satellite and radar resources for data and information in the northern corridor.
Ambassador Huang also said vessels and aircraft are being prepared to scour new areas after a futile hunt lasting more than a week in the South China Sea.
China's largest rescue vessel, Haixun 01, headed toward Singapore on Tuesday to join the search and is estimated to arrive in waters off the city state for supplies on Wednesday. It is carrying a helicopter and an underwater robot.
"The Chinese navy has readjusted the search forces and has divided the current forces into two groups to search waters off the Andaman Islands and Sumatra," said navy spokesman Liang Yang.
Malaysian authorities say the aircraft's tracking devices were deliberately switched off, allowing it to travel almost undetected.
Malaysia Airlines' chief executive officer Ahmad Jauhari Yahya said it doesn't have a precise time for when the plane's Communications Addressing and Reporting System was closed down, but this was possible at anytime between 1:07 am and 1:37 am on March 8.
Asked if flight MH370 changed course on its way from Kuala Lumpur to Beijing through the cockpit's computerized Flight Management System, he said the aircraft's computer set a course for Beijing, but it could be easily changed manually in flight.
Malaysia has asked countries along the search corridors to provide satellite and radar data to help narrow the zones. Hishammuddin said many nations showed their support but so far have reported no sightings or satellite and radar data clues to the plane's location.
Hong Lei, the Chinese Foreign Ministry spokesman, said, "We are analyzing our related data from satellite and radar materials as the response to Malaysia's request."
Ambassador Huang said Malaysia has been doing its best in the search and investigations so far, but it lacks experience and the capability to handle this kind of incident.
Contact the writers at pengyining@chinadaily.com.cn and hena@chinadaily.com.cn
Xinhua contributed to this story.