BEIJING - With ten Chinese vessels on standby for further instructions, China was readjusting its search efforts for the missing Malaysia Airlines jet and would not give up a gleam of hope, according to Chinese officials.
Malaysia should play a better role in coordinating international search efforts for the missing flight MH370, Chinese Foreign Ministry spokesman Hong Lei said here on Monday.
Hong told a daily press briefing, "The greater the search area becomes, the more difficult the search will be, so we have to come up with better ideas and methods."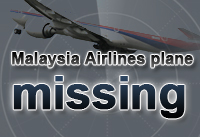 Passengers' and their nationalities:
Chinese 154 
Malaysia 38
India 5
Indonesia 7
Australia 6
France 4
USA 3 
New Zealand 2
Ukraine 2
Canada 2
Russia 1
Italy 1
Netherlands 1
Austria 1
He urged the Malaysian side to provide "comprehensive and correct information" as more countries try to track Malaysia Airlines flight MH370, which went missing on March 8 with 227 passengers and 12 crew, including 154 Chinese.
By Monday, 26 countries were searching for the plane, compared with 14 last week. China has updated its embassies in the countries on latest developments.
Hong said that China will actively cooperate with Malaysia and all other countries and readjust its search efforts. "The focus of China's search efforts is no longer just in the South China Sea," Hong said.
Malaysian official sources say the plane could be anywhere along a giant arc extending from Kazakhstan in the north to the Indian Ocean in the south.
"We have expressed hope that relevant countries helping with the search let us know as they provide information for Malaysia," Hong said.
So far, eight Chinese vessels are on call over the Gulf of Thailand,
while the other two are in waters near Singapore, according to He Jianzhong, director of the China Maritime Search and Rescue Center.
Another vessel is on its way to Singapore and expected to reach there Tuesday night, He disclosed.
The search for flight MH370, a Boeing 777-200ER, entered its 10th day on Monday after the plane went missing on its way to Beijing on March 8, carrying 12 crew and 227 passengers, including 154 Chinese.
In the 24 hours till Monday noon, several Chinese merchant ships had assisted in the searching across the designated waters of the Strait of Malacca, with no discoveries after scouring 7,901 square kilometers in the area, according to He.
Chinese Premier Li Keqiang on Monday asked Malaysia to provide Beijing with more detailed data and information about missing Malaysia Airlines Flight MH370 in a timely, accurate and comprehensive manner.
While speaking over phone with Malaysian Prime Minister Najib Razak, Li stressed that despite the increasingly complicated circumstances, the expanding scope of search and the mounting difficulty, "as long as there is still a gleam of hope, we should continue to do our utmost."
Beijing, Li said, hopes that Malaysia will provide China with more detailed data and information in its possession, including third-party information, in a timely, accurate and comprehensive manner.
China also expects Malaysia to identify the scope of search as soon as possible, formulate plans and raise efficiency, added the premier.
Li stressed that search and investigation should be carried out at the same time, and that the information gathered through investigation should be used in time to help the search and rescue mission.
In addition, Li said China expects the Malaysian government and Malaysia Airlines to fulfill their duties, continue to mollify the families of Chinese passengers aboard the missing plane both in Beijing and in Kuala Lumpur, and keep them informed of the latest progress on the search and rescue mission.