BEIJING - Chinese Premier Li Keqiang on Monday asked Malaysia to provide more detailed data and information about missing Malaysia Airlines Flight MH370 in a timely, accurate and comprehensive manner.
Li made the remarks while speaking over phone with Malaysian Prime Minister Najib Razak, who briefed Li on the latest developments of the search and rescue mission and the next steps Malaysia will take.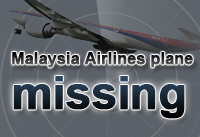 Passengers' and their nationalities:
Chinese 154 
Malaysia 38
India 5
Indonesia 7
Australia 6
France 4
USA 3 
New Zealand 2
Ukraine 2
Canada 2
Russia 1
Italy 1
Netherlands 1
Austria 1
Search and rescue remain the top priority, Li said, adding that China appreciates the all-out multinational efforts in looking for the Boeing 777 aircraft.
China, he said, has dispatched more than 10 specialized vessels to scour relevant sea waters and asked Chinese commercial ships traversing the areas to help with the hunt.
China has also deployed several planes and 21 satellites for the mission and notified 25 countries of relevant information and Beijing's request for assistance, Li added.
He stressed that despite the increasingly complicated circumstances, the expanding scope of search and the mounting difficulty, "as long as there is still a gleam of hope, we should continue to do our utmost."
Beijing, Li said, hopes that Malaysia will provide China with more detailed data and information in its possession, including third-party information, in a timely, accurate and comprehensive manner.
China also expects Malaysia to identify the scope of search as soon as possible, formulate plans and raise efficiency, added the premier.
Li stressed that search and investigation should be carried out at the same time, and that the information gathered through investigation should be used in time to help the search and rescue mission.
In addition, Li said China expects the Malaysian government and Malaysia Airlines to fulfill their duties, continue to mollify the families of Chinese passengers aboard the missing plane both in Beijing and in Kuala Lumpur, and keep them informed of the latest progress on the search and rescue mission.
Najib, for his part, said Malaysia appreciates the prompt, all-out assistance and cooperation China has offered, and will continue to do its best until the jetliner is found.
He said Malaysia is ready to strengthen information exchanges with China and all other parties concerned, and will adjust and identify the search scope based on the latest leads and brief China on the latest developments in a timely manner.
Malaysia, he added, fully understands the painful feelings of the families of the Chinese passengers as well as China's concerns, and will do its best to soothe the families of the Chinese passengers.
Malaysia Airlines Flight MH370 vanished from radar in the wee hours of March 8 while carrying 227 passengers and 12 crew members from Kuala Lumpur to Beijing. Among the passengers 154 are Chinese.