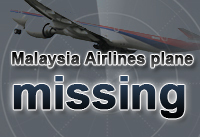 Passengers' and their nationalities:
Chinese 154 
Malaysia 38
India 5
Indonesia 7
Australia 6
France 4
USA 3 
New Zealand 2
Ukraine 2
Canada 2
Russian 1
Italy 1
Netherlands 1
Austrian 1
KUALA LUMPUR - Police began searching the home of the pilot of the missing Malaysia Airlines flight on Saturday, after the country's prime minister confirmed the plane was suspected to have been deliberately diverted, a senior police official told Reuters.
Police officers arrived at the home of the captain, 53-year-old Zaharie Ahmad Shah, on Saturday afternoon, shortly after Prime Minister Najib Razak ended his news conference.
Investigators had confirmed that an aircraft tracked by military radar was the lost Malaysia Airlines flight MH370, after its communications were likely switched off before it reached the east coast of Malaysia a week ago, Najib said.