In a leafy four-star resort in a Kuala Lumpur suburb, more than 50 journalists waited to tell a compelling story. Telephoto lenses bristled from palm leaves, pointing at members of Chinese families who were having breakfast on a terrace at the resort.
Although the hotel had kept information about the Chinese family away from the media, dozens of reporters still managed to sniff out the location.
Beside the terrace gurgled an artificial waterfall. Hammocks slumped between palm trees where squirrels jumped and squeaked.
But the beautiful view doesn't ease the anxiety of losing contact with loved ones. Most of the people are quiet. Fruitless searching has left them only one thing to do: wait.
"There is so little information," a woman wearing yellow T-shirt said.
News conferences are irregular and frequently postponed. In the past three days since I arrived in Kuala Lumpur, none of the three daily briefings started on time.
Newspapers, the only source besides the Malaysian authorities, pile up on the tables on the terrace. Flipping through the stories of the missing flight, they discuss the issue, mostly abstruse technical aviation details.
"A news report said the plane kept flying for some time after contact was lost, according to the engine data," a woman wearing a black skirt said. "If it was true, they probably landed somewhere."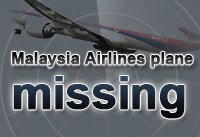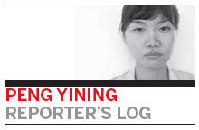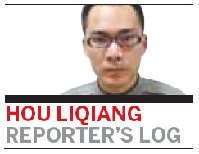 The engine data story was later denied by the Malaysian minister of defense at a news conference. Family members keep changing their assumptions because they don't know any facts. Nobody does.
"I'd rather believe they were sucked into a time tunnel," the woman in the yellow shirt said, verging on tears. "At least they are alive."
"Don't worry too much. It will be fine. It will always be fine," a man in a white shirt said.
Security guards from the hotel hover around, driving away reporters who attempt to disturb the families or take pictures. Every family member has an assistant wearing a blue vest, Malaysian Airlines personnel or local volunteers.
Yan Weixiang, director of the Malaysia Chinese Association, said the group's volunteers are taking care of the missing passengers' loved ones.
"All of our 300 volunteers speak Chinese, and this will make them feel more comfort, I think," he said. "We provide 24-7 service for them to keep them calm and comfortable in Malaysia."
"You need to hold on. Your family needs you," a volunteer said to the woman with yellow shirt, whom she accompanied to a bathroom.
"They still don't have a clue," said the man in the white shirt. "But it has been six days. Maybe no news is good news.
"I know it doesn't change anything, coming to Malaysia, unless they find the plane," he said. "But what else can I do?"