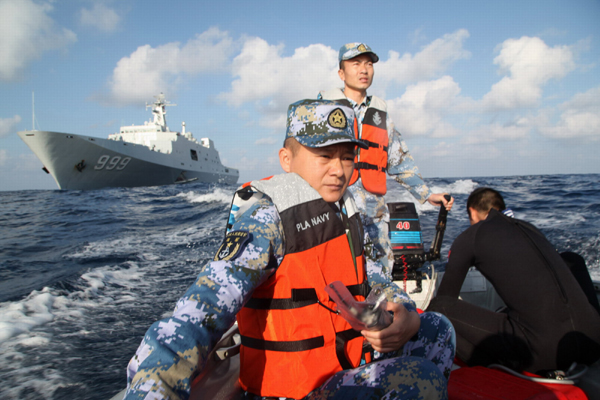 Rescuers aboard the Chinese naval vessel Jianggangshan take a boat to carry out search mission at the possible crash site of missing Malaysia Airlines flight MH370, March 13, 2014. [Photo/Xinhua]
Chinese naval vessels are carrying out a 24-hour search for the missing Malaysian plane, but no possible leads have been discovered, Xinhua quoted Duan Zhaoxian, leader of a special task force as saying.
"The search area covered 34,000 square kilometers since March 10," Duan said.
The search continues to face difficulties with the reported initial location proving inaccurate; conflicting information influencing the task and the partial restriction of the mission by the number of vessels and planes from different countries in the area, Duan said.
The navy will improve coordination with the China Maritime Search and Rescue Center in planning further searches, Duan said, adding that the search strength will focus on tide direction in the Gulf of Thailand and will continue to expand in a Northwest direction.