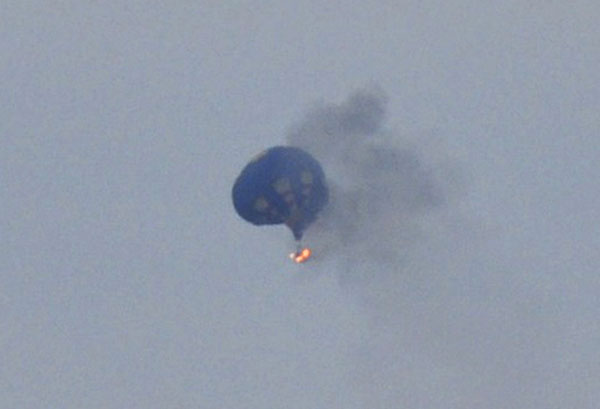 A hot air balloon on fire is pictured north of Richmond, Virginia, May 9, 2014, in this handout photo courtesy of Lynn Shultz.[Photo/Agencies]
Two people were killed and another missing after a hot air balloon hit a power line and caught fire over Virginia during a festival, police said on Saturday.
Authorities have not identified the victims and were conducting a search in the air and with more than 100 people on the ground for the third person who was in the balloon's basket at the time of the Friday evening accident about 30 miles (50 km) north of Richmond.
"We still have not located the basket or the balloon. We do continue to keep finding debris and various items that would have been on the hot air balloon," Virginia State Police spokeswoman Corinne Geller told a televised news conference.
She said there were eyewitness reports that two people were seen tumbling from the basket after the balloon caught fire, but said it was unclear if they fell or jumped.
Two other balloons had landed at a designated landing site before the accident with the third balloon, Geller said.
Witnesses posted photos online showing a balloon in mid-air with its basket engulfed in flames and a trail of smoke spilling into the sky.
Many said there was an explosion as it hit the line and the balloon then separated from the basket carrying the passengers. People on the ground could hear screams from those in the balloon, witnesses said.
"They were just screaming for anybody to help them," resident Carrie Hager-Bradley told a local NBC affiliate.
More than 20 hot air balloon teams from across the United States were to take part at The Meadow Event Park in Caroline County. The Saturday and Sunday events were canceled.
The Federal Aviation Administration and the National Transportation Safety Board were investigating the accident.