Princeton University just announced that it has hired its first ever professor of Asian-American history. Up until now, surprisingly, there had been no Asian-American studies at the lofty institution.
She is Beth Lew-Williams, 32, and she is moving from Northwestern, which does have an Asian-American studies program that she has been teaching in for the last two years after getting her PhD at Stanford University.
Disproportionately the students who have come to her class there have had some connection to Asian-American communities, or were Asian international students, or they had a good Asian-American friend in high school.
But basically, she said, they've been blank slates on the subject. Seventy-five percent of Chinese Americans today are either first or second generation Americans and most of them don't know anything about what Chinese immigrants went through in the 19th century - a subject she is writing a book about.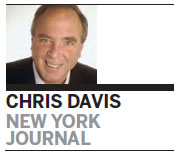 "It's brand new to lots of them," she said, "which I enjoy."
Students are most interested in questions of identity, community and sometimes politics. As an historian, however, Lew-Williams is more interested in teaching them how looking at a minority and often marginalized community offers a unique perspective on US history.
"Adding Asians back into the traditional White-and-Black history of America shifts the entire story," she said. "That's what I hope they experience."
One of the landmark periods she focuses on is Chinese Americans during World War II. Chinese Americans both served in the war as soldiers and on the home front.
"World War II was a radical shift in how Chinese were viewed in this country," she said. "Both because they were serving as American soldiers and because China was allied with the US. But also because Chinese differentiated themselves from the Japanese enemy - quite purposively - and sought to establish their loyalty to America and emphasize the disloyalty of Japanese."
Lew-Williams called herself bi-racial, with part of her ancestry Chinese. Her Chinese great-great-grandfather came to the US around the turn of the century at a time when it was illegal to immigrate to the US as a Chinese - the only nationality singled out and labeled illegal.
"So he was an illegal immigrant," she said.
How did he do it?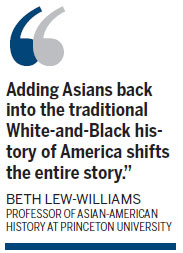 "I'm not sure my family wants me to tell that story," she said with a laugh. "I'll say in general, immigrants found two ways to come into the country: One was to cross land borders in Mexico or Canada; the second was to get off of a ship in San Francisco harbor and basically lie about either your status, whether you've been in the country before, were a US citizen by birth."
Her grandfather was also an immigrant in the 1930s, great-grandfather having gone back and forth to China, finding a wife there. Grandfather came at age eight to Angel Island and was interrogated, an experience he never forgot.
"I did an oral history of him before he died and he remembered staying at Angel Island for nine months as an eight-year-old by himself, but then I went and looked at the immigration papers and it turns out he was only there for 34 days," she said. "The mind of an eight-year-old - it shows the enormity of it to him."
Having heard these family stories and then trying to piece together what had happened from immigration records, Lew-Williams was drawn into the larger question of why was it that the United States created border control to keep out Chinese migrant workers.
Her book - working title: The Chinese Must Go: The Violent Birth of American Border Control due out from Harvard University Press "not any time soon", she said - gives what she called "sort of a messy picture of how the US came to enact racial border control". It wasn't just a top-down Congress deciding we're going to keep out the Chinese, but more something sparked from grassroots and sometime violent protest , as well as negotiated through diplomatic channels with China, she said.
"It had to do with the unequal relationship between China and the US," she said.
Lew-Williams said she is no expert on the present day. "I'm an historian, we try to stay in the past," she said. "But what I like is I get a lot of students in my class who are either foreign students or who have immigrated themselves - some with their families, but also these 'parachute kids', ones who immigrated as teenagers all by themselves in order to take advantage of the American educational system.
"There's been lots of Chinese students coming to the US looking for educational and economic opportunity," she said, "but what's particularly interesting about this new crop is that they don't necessarily desire to stay in the US because of the strength of the Chinese economy, a lot of them think of this as a temporary stop and they see Asian-American history from an outsider's perspective.
"I think it's very interesting to hear them talk about it," she said. "I assume there'll be some at Princeton."
Contact the writer at chrisdavis@chinadailyusa.com