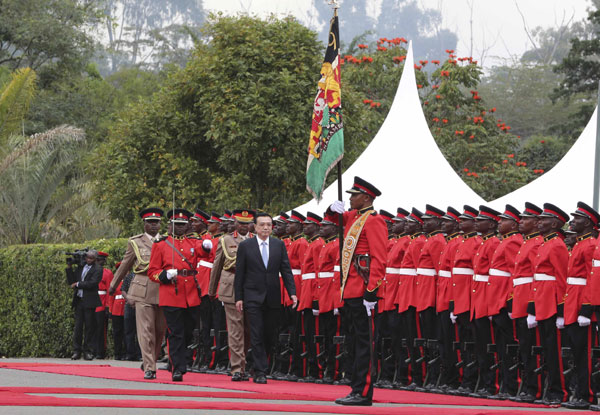 Li Keqiang reviews the guard of honour of Kenya in a welcome ceremony in Kenya on May 10, 2014. [Photo/Xinhua]
NAIROBI - China's Hainan Airlines would sign a deal with Kenya's cargo airline Astral Aviation to jointly explore the markets of East African countries, a Chinese official said Saturday.
Cooperation documents were expected to be signed during Chinese Premier Li Keqiang's visit to Kenya, which ran from Friday to Sunday.
The deal would also involve the China-Africa Development Fund, established by China in 2007 to help its companies cooperate with African counterparts, the official said, without giving any specific amount.
Under the deal, Hainan Airlines would take shares in Astral Aviation, and the new entity would provide civil aviation service in Kenya and other East African countries, with Nairobi as the center.
At the initial stage there would be five 50-seat Embraer E-145 planes to fly between Nairobi and neighboring countries. When market grows, the fleet may be expanded and air routes extended to West and South African air transport hubs.
The Kenyan government plans to develop its aviation sector, which coincides with the China-Africa regional aviation cooperation program initiated by China, the Chinese official said.
Li said earlier this week that China would like to cooperate with African countries to help the continent build regional aviation network.
The Chinese premier arrived here Friday for a visit to Kenya, the last leg of his first Africa tour since he took office in 2013.