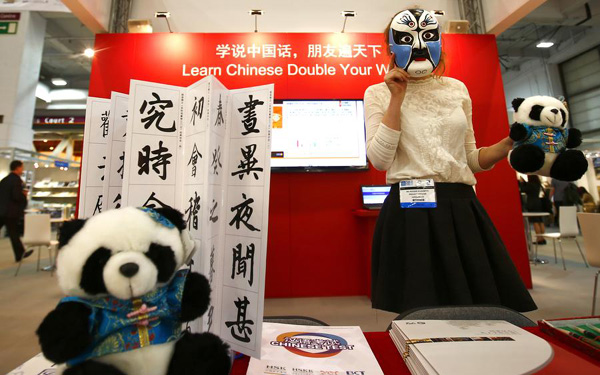 A worker of China's Confucius Institute Headquarters introduces books to audience at 43rd London Book Fair, April 8, 2014. [Photo/Xinhua]
LONDON - The 43rd London Book Fair opened Tuesday at the Earls Court in London, attracting lots of visitors to explore their new books and get involved in various cultural programs.
During the three-day fair, thousands of trades, readers and publishers are expected to attend the fair, where more than 250 seminars and activities are to be held, according to the organizer.
About 30 Chinese publishers, including the China International Publishing Group (CIPG), Phoenix Publishing & Media Group, and Confucius Institute Headquarters (Hanban), are among the exhibitors on the fair.
"Many Chinese publishers and publishing houses have participated in the fair for more than a decade. And now we have begun to exhibit an increasing number of translated books in recent years rather than the books in Chinese. And for this time, about 90 percent books from CIPG on this exhibition are foreign language books," Zhou Mingwei, president of CIPG, told Xinhua at the fair.
"Although more and more books about Chinese history and culture have been seen at the fair in recent years, the number is only a drop of the sea in the books world. There are yet other aspects we need to explore in the future as we have plenty of cultural resources," he added.
Besides the history and culture, as well as the children literature and Chinese learning books, the CIPG also brought over for the first time of its kind of books about some famous Chinese leaders, such as Jiang Zemin and Zhu Rongji, to the international event.
"By attending the fair, we can listen to our international readers about their demands, especially the Westerners, to find out their reading habits and the different topics they concern, as the competent marketing models are pivotal for domestic publishers," Zhou said.
On the first day of the fair, Phoenix Publishing & Media Group published the Chinese Arts and Letters Magazine, which dedicated to contemporary Chinese arts and literature.
As the host of the event, Jacks Thomas, director of the London Book Fair said, "We are so proud to be the event that has been selected to showcase this groundbreaking development in Anglo Chinese literary life."
A publisher, whose first name is Jaka, told Xinhua that he intends to make deals with Chinese publisher at the fair.
"I like Chinese Qigong and Tai Ji which I have practiced for three years. For this time, I'm looking forward to making deals with the Chinese publishers to introduce those kinds of books to Slovenia. In addition, I think that more Chinese elements like Chinese medicine and martial art, should be brought into the western countries."
Started in 1971, the London Book Fair is the second largest marketplace for copyrights trading only after the Frankfurt Book Fair in Germany.