SANTIAGO - Venezuela's ailing President Hugo Chavez, recovering in Havana from cancer surgery and a lung infection, has emerged from the delicate post-operative stage and is in a new phase of treatment, Information Minister Ernesto Villegas said Sunday.
"The respiratory infection, which had been a complication, has been overcome," Villegas said at the sidelines of a two-day Latin American-EU summit that ended Sunday in Santiago, Chile.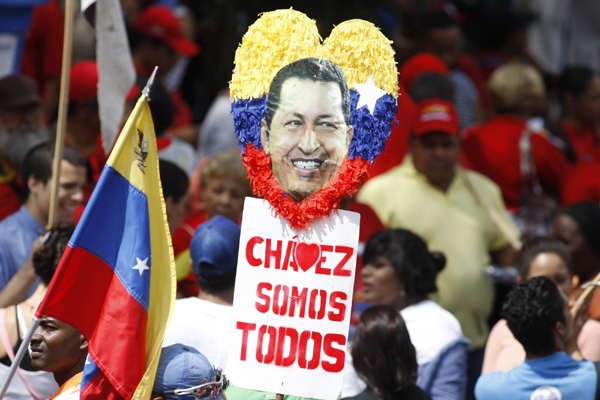 Supporters of Venezuela's President Hugo Chavez attend a rally to commemorate the 55th anniversary of the last Venezuelan dictatorship's collapse, in Caracas, in this Jan 23, 2013 file photo. [Photo/Agencies]
Chavez "has begun a system-wide treatment against the illness for which he had surgery on Dec 11," Villegas added.
"Chavez is facing up to the next phase of his treatment with fortitude, physical and spiritual strength," said Villegas, adding "he is complying strictly with his treatment."
The president's prolonged absence has mobilized the political opposition, which claims the nation is leaderless and needs an interim leader to be named.
Last Wednesday, more than 20,000 Chavez sympathizers took to the streets of the capital Caracas to celebrate Democracy Day and show their support for their Chavez, according to the minister.
Chavez was reelected president of Venezuela in October, but failed to take the presidential oath earlier this month because of complications following his fourth operation on cancer first diagnosed nearly two years ago.
Asked about the summit between the Community of Latin American and Caribbean States (CELAC) and the European Community (EU), Villegas described it as "a point in favor of Chavez's program for Latin American integration".
CELAC "is an important step towards the fulfillment of a 200- year-old dream of unity that Simon Bolivar and other freedom fighters in the Americas hoped to build", Villegas added.
Chavez has named his socialist revolution after the Caracas- born Bolivar, a regional hero.
When Latin America was fighting for its independence from colonial Spain in the late 18th century and early 19th century, " these great battles for independence were truncated because divergence and conflict was sown by the different oligarchies that wanted to parcel out this part of the world," said Villegas.
Now, "we are on a sure footing towards full integration and that will make Commander Chavez happy. Every day, Bolivar's dream is more probable, more real," he concluded.