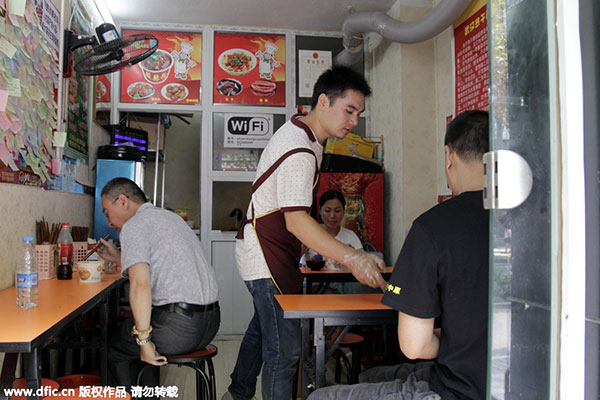 Fu Gaochan serves suanlafen ( hot and sour rice noodles) to the customers at his restaurant in Zhengzhou city, capital of Central China's Henan province on Aug 10, 2015. [Photo/IC]
Post-90s restaurant owner donates profits to save friend's son
Fu Gaochan, born in the 1990s, owns a restaurant providing suanlafen (hot and sour rice noodles) and has decided to donate the money he earned to help his friend's leukemia-stricken son, who is 3 years old and lives in Zhengzhou, capital city of Central China's Henan province.
Fu has put a slogan saying "one bowl of suanlafen, one life" in front of his restaurant to appeal to more passersby to eat at his restaurant since this April. The 3-year-old still needs more funds to treat his disease.
The restaurant owner told the reporter that a bowl of suanlafen can earn him a net profit of 2 yuan ($0.3), which he will donate to his friend until the child gets enough money for treatment.
Local residents and citizens showed their support for Fu's decision by having suanlafen at his restaurant, which has increased the restaurant's daily revenue to as much as 2,200 yuan compared with 700 to 800 yuan before.
Fu said he is deeply moved and encouraged to help his friend's son by the citizens' kind acts such as paying 50, or even 500 yuan for a bowl of suanlafen.
Fu also made a note of the extra money paid by the customers at his restaurant.
In our final story, summer heat drives monkeys to harass residents.