In today's trending, beer drinking competition has contestants drinking from basins, bland watermelon leads to police case, raising money for sick child with suanlafen and heat drives monkeys to disturb residents.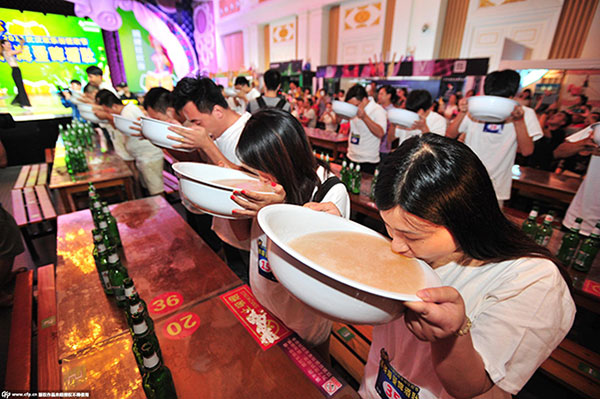 Participants try to drink up the beer in the basin. [Photo/CFP]
Drinking basins of beer
Cold beer is one of the best things about sizzling summers. But how about drinking it out of a basin as quickly as you can?
More than a hundred people participated in a beer drinking contest in Wuhan, Hubei province on Aug 9 in which four bottles of beer, or 2,000 ml, was poured into a basin which contestants had to drink up. They split into two teams to drink as much as possible in five minutes.
One man drank a basin of beer in just two minutes. The winning team won by just one basin of beer.
In the next story, a bland watermelon leads to a police case.