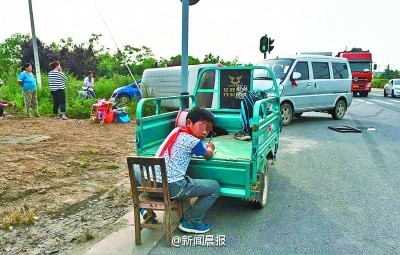 The boy is seen doing homework near the site of the accident. [Photo from Sina Weibo]
Boy does homework at accident site
A boy in Wuhan was spotted doing his homework on the rear of a truck on a road where an accident had just taken place, earning him the moniker "the calmest boy".
On Tuesday, two minibuses collided in Wuhan, with one of them overturning on the road. While police were dealing with the crash and rescuing injured people, the boy was seen doing homework just two or three meters from the accident site. Asked why he didn't leave, he said, "My family told me to wait for them here."
The police later convinced the boy to leave the site.
That's all for today's trending, do check back tomorrow for more!