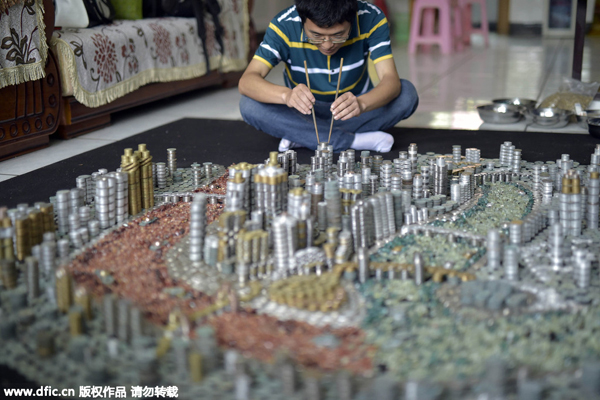 He Peiqi, a man in Chongqing, spent a month building a miniature model of his hometown which includes all its landmark sites.[Photo/IC]
Micro coin city
A Chongqing man built a model of Chongqing city in a month. He stacked coins to form the buildings without any glue, and used agate to represent the Yangtze and Jialing rivers that flow through the city, Chongqing Evening News reported.
The miniature used 11 kinds of coins, numbering more than 50,000, including ancient coins and foreign coins. It has all the landmark buildings of Chongqing, like the E'gongyan Bridge, bridges on the Yangtze River and the 28 bridges on the Jialing River.
He Peiqi said he is a coin collector, and has rebuilt the miniature several times since he has accidentally destroyed it a few times. With no glue holding it together, if any part falls it leads to a domino effect.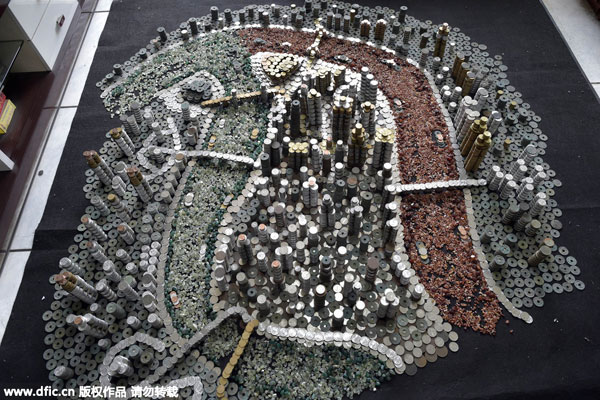 He Peiqi, a man in Chongqing, spent a month building a model of his hometown which includes all its landmarks, using coins. [Photo/IC]
In our final story, meet the calm boy who did his homework at the site of an accident.