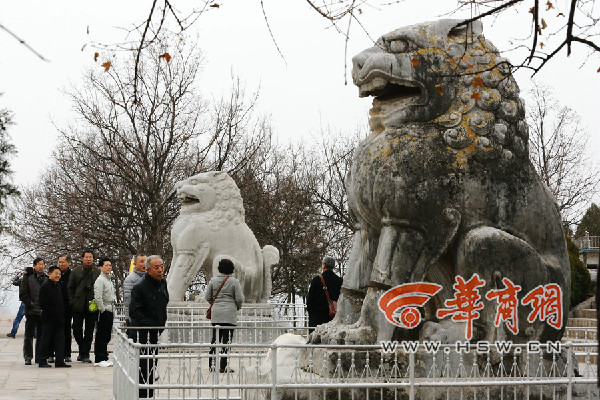 The newly whitened stone lion stands next to its unbleached counterpart in Xi'an of Shaanxi province. [Photo/hsw.cn]
Bleached stone lion raises eyebrows
A stone lion's new look drew criticism for losing its original beauty, reported Huashang Daily on Friday. The lion, which stands outside a Tang Dynasty (618-907) tomb outside Xi'an of Shaanxi province,now looks white following a cleaning operation.
One of 20 stone statues which were built in 684, the stone statue had been covered with moss and cracks due to wear and tear over the ages, according to several guides working at the scenic spot.
But some visitors did not feel comfortable with the new look of the relic. A visitor surnamed Jiang said that bleaching the statues went against the principle of "restoring the old as the old" in relics repair and damaged the original beauty of the relics.