Zhuhai's English website cityofzhuhai.com went online on April 22, serving as a window on its opening-up to the outside world.
Zhuhai has attracted more and more attention from home and abroad with the implementation of the Belt and Road Initiative, Hengqin Free Trade Zone's accelerated development and construction of the Hong Kong-Zhuhai-Macao Bridge.
The launch of the website is an important step to enhance the city's communication with the outside world.
The website will connect Zhuhai and the rest of the world and help visitors understand the city. It will be instrumental in attracting more high-end international people and businesses, improving the city's opening-up and helping the city get off to a good start in the 2016-2020 period.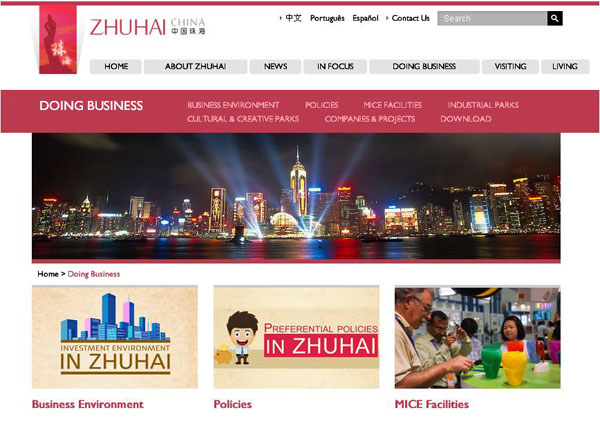 A screenshot from Zhuhai's English website.
The website is sponsored by the Zhuhai information office and developed by China Daily.
Its columns feature images of Zhuhai, news, hot-spot issues, business investment, tourism and culture, and urban life.
All columns focus on news and service information and connectivity. The news column aims to convey Zhuhai's latest development to the whole world in a timely way. The service column introduces Zhuhai's industry, tourism and public life.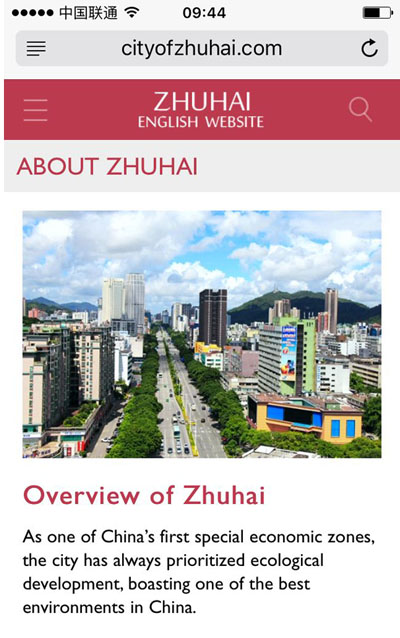 A screenshot from the mobile version of Zhuhai's English website.
The website also includes links to websites of key industrial parks, enterprises, restaurants, hotels and schools. The website applies the designs of similar international websites and integrates Zhuhai's characteristics and international style. It uses blue as the dominant tone to reflect the city's ocean elements. Local distinctive elements have been added to the design.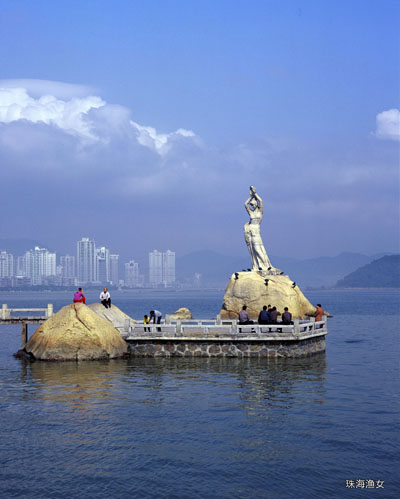 The Fisher Maiden sculpture of Zhuhai
All pages feature strong visibility, readability, and balanced colors, and make full use of virtual reality. They're clean, fashionable and rhythmic. The website follows trends in the omnimedia era and has a mobile terminal version featuring consistently-designed pages, a concise and clear-cut column setup, and screen scenes with strong visual impact.
It's easy to access the website through mobile devices, which will help readers keep abreast of Zhuhai's distinctive and vibrant development.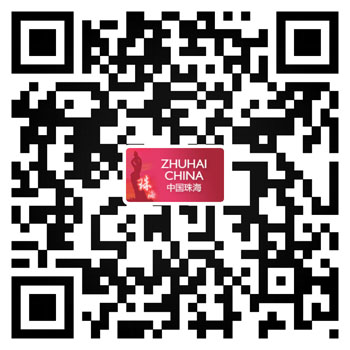 For more information, please scan the QR code of Zhuhai's English website.