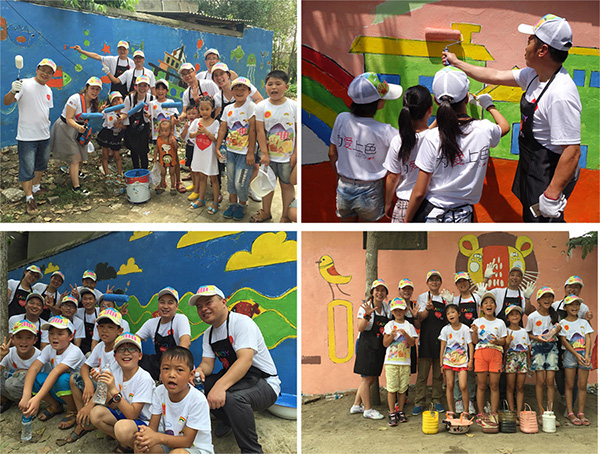 The volunteers and children draw pictures on the walls. [Photo provided to chinadaily.com.cn]
Over 45 staff volunteers from Nippon Paint China visited about 200 left-behind children at "Project Candy" children's arts center and villages in Lvzhuang, Central China's Henan province, on August 1, together with its partner Wilmar International Ltd. In China, there are nearly 61 million left-behind children whose parents leave rural areas to work in urban centers. Project Candy, a non-profit charity organization, set up the Lvzhuang Children's Arts Center to offer arts courses and summer camps to help the left-behind children in Henan's countryside.
This July, Nippon Paint and Project Candy joined hands to launch a "Colorful Villages" project, one of the company's corporate social responsibility (CSR) programs. A total of 45 staff volunteers from Nippon Paint China participated in the project. It is the second time that both organizations cooperated on such a project since they first worked together on building-restoration and painting decoration for the Henan Lvzhuang Children's Arts Center in 2014.
The volunteers and the children worked in pairs to paint colorful pictures on the walls in the village. The activity brought them joy and excitement. They all expected that their wishes and visions expressed in their paintings could come true. After eight beautiful pictures were drawn, the volunteers posed for group photos in front of their masterpieces.
Apart from the wall painting activity, the volunteers also had art classes with the kids. They taught the children some painting skills and encouraged them to practice it. The volunteers also gave some presents to the kids, including sports equipment and popular science books, wishing them a good summer vacation.
Ariel Wu, Nippon Paint China's PR, CSR and Brand Communication Director, said that the project was inspired by a little girl's new year wish that she thought her parents could come home more often if she painted a pretty house. The company, joining hands with the Project Candy, aims to make those children's dreams come true through this project.
Nippon Paint China also called on the staff volunteers nationwide to pay attention to left-behind children and to try their best to show them love and tenderness in order to ensure the children grow up with love and fair, Wu added.
According to Wu, "Colorful Villages" project, derived from the company's other two CSR projects Society Care's "Refreshing for Love" project and "Color, Way of Life" project, will last from 2015 until Oct 2016. Some 50 pieces of wall paintings, each 30 to 40 square meters in size, are expected to be completed by that date. The villages will gradually get new looks by the continuous efforts by many artists, volunteers and local residents. The left-behind children there would have a colorful and pretty home village. Both the funding and all the coating materials are provided by Nippon Paint China.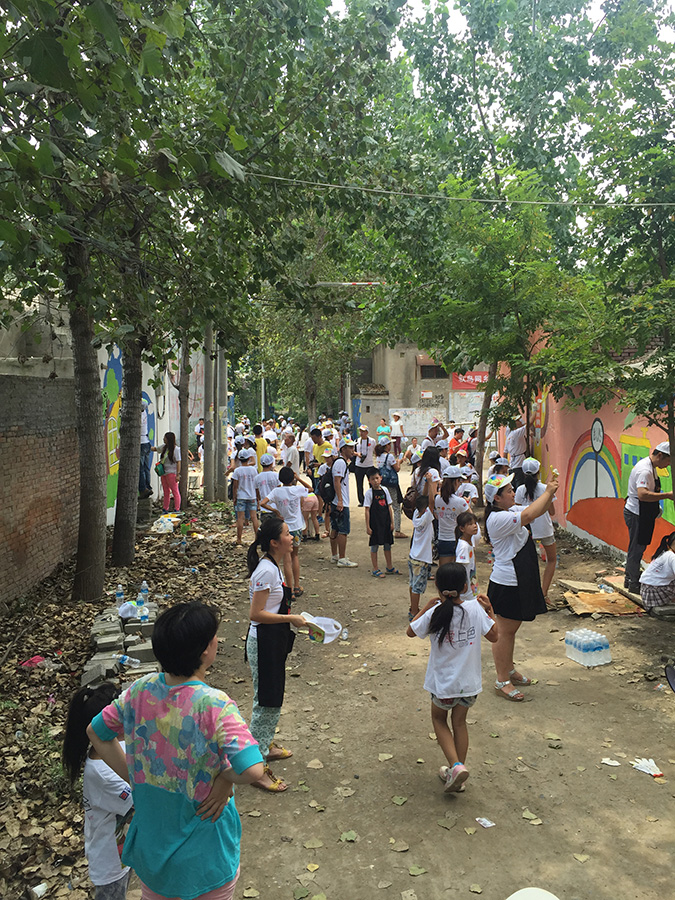 Children and Nippon Paint staff volunteers color their villages together. [Photo provided to chinadaily.com.cn]