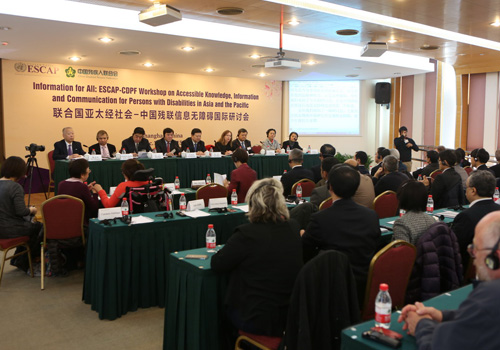 Specialists in caring for people with disabilities in Asian countries have explained at an international conference in Shanghai, on Tuesday, that these people need more public services that bring them convenience so that they can share information technology innovations.
In this, the director general of the Information Center of the China Disabled Persons' Federation, Cui Huiping, says that websites especially need to be encouraged to make their information more accessible through the use of captions, sign language, and similar devices, because of the growing need for Internet information.
Cui told the conference that a report from last year showed that, out of every 100 Chinese families with a person with a disability, 84 have cell phones and 29 have computers, but that total sales for these people on taobao, China's online shopping giant, were around 10 billion yuan ($1.5 billion).
The conferences theme was accessible knowledge, information and communication for persons with disabilities. Hosts were the United Nations Economic and Social Commission for Asia and the Pacific and China Disabled Persons' Federation.
China has recorded 85 million disabled people and Shanghai says that it is taking the lead in this, with the municipal government having begun work on a website accessibility project since 2010. It says that about 80 percent of its sites are now equipped with more accessible content for people who are visually or aurally impaired.
Cui concluded by saying the federation has cooperated with taobao in helping disabled people to start up an online store or work in customer services as a way of providing more job opportunities.