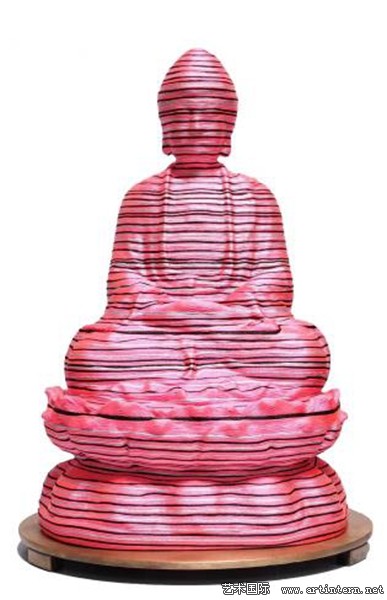 A bronze figure created by artist Yang Tao. [Photo/artintern,net]
As part of 2016's Year of China-Latin America Cultural Exchange, an exhibit showcasing contemporary Chinese art has opened in Panama City.
"Color Symbiosis" opened on July 27 at the city's Museum of Contemporary Art (MAC), featuring a selection of 50 works of art by some 20 Chinese artists working in a wide range of media, from sculpture to video installations, and themes, from traditional landscape paintings to abstraction.
These works, according to the MAC, "depict the artists' strong desire to transcend all types of borders, presenting their unique view of the contemporary world grounded firmly in their traditions and their identity."
Wang Weihua, representative of the China-Panamanian Trade Development Office, said the exhibit is one of several projects designed to boost cultural and artistic exchange between China and Panama.
"This way we can strengthen cultural exchange, knowledge, understanding and cooperation between the two countries and two peoples," Wang said.
Five of the artists traveled with the show to Panama, to increase interaction between the two countries on a personal level through meeting with Panamanian artists.
The show includes works by Ai Xudong, Bai Xiaogang, and Fang Xueyi, whose work hangs from the ceiling of the MAC, and others.
A second component of the exhibit, called "Panachina," will be presented at the MAC starting on Aug. 3 with the participation of Chinese-Panamanian painters, said Wang.
MAC's Executive Director Silvia Estaras noted China's presence in Panama goes back 160 years.
The exhibit, she told Xinhua, is valuable for both its artwork, a blend of contemporary influences and China's millenary traditions, and what it represents in terms of China-Panama cultural exchange.
"Color Symbiosis" will be held through Sept. 2.