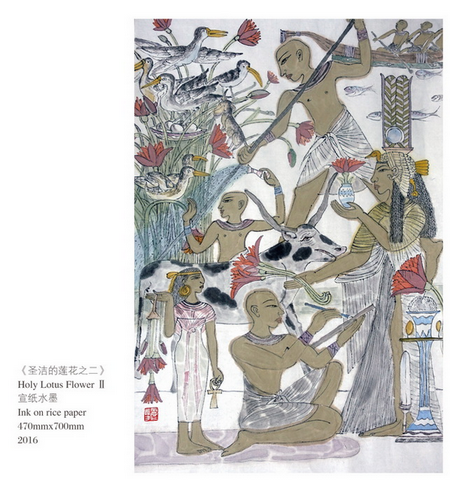 Holy Lotus Flower, a work from a Chinese female artist showcased at the exhibition in the Egyptian Embassy in China, July 27, 2016. [Photo/Chinaculture.org] 
From a women's perspective, the whole world could look very different. Let alone images depicted in their artworks.
As the female artists gain a higher profile in China, they are bringing creativeness to traditional Chinese ink painting to make it more expressive.
On Tuesday, an exhibition featuring six Chinese women painters' works was held in the Egyptian Embassy in China. Ink paintings showcased works of Xie Lifang, Luo Ying, Li Daimei, Zhao Yi, Xu Qiping and Huang Huan, who got inspiration from their experience in Egypt.
With the support of the cultural ministers of both countries, they visited Egypt in April and held an exhibition of their paintings and a workshop in Cairo from April 19 to 24.
Being an important part of 2016 China-Egypt Cultural Year, the event aims to promote the cultural exchange between the two nations and let Chinese artists know more about Egypt.