Hangzhou serves up food culture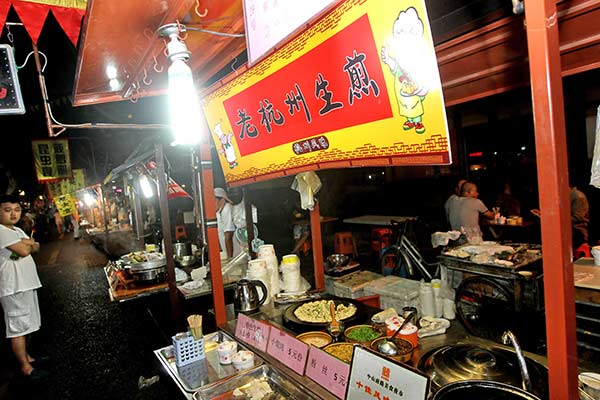 Midnight snacks are provided at Zhongshan South Road Food Street in Hangzhou. Photo provided to China Daily
Hangzhou has long been regarded as a city of gourmet food and has a long history of cuisine culture. The dishes have a reputation among foodies for fresh ingredients, elaborate processing and natural flavor. Apart from time-honored restaurants such as Louwailou and Tianxianglou, visitors can visit famous food streets to explore the tastes of the city.
Shenglihe Food Street
Shenglihe Food Street, once in ruins, has grown into a popular destination for food lovers in Hangzhou.
The street, put into operation in 2009, is home to many popular restaurants.
Some small but famous restaurants are also on this street - for instance, Ding's Boiled Mutton. Many Hangzhou residents like to order some boiled mutton and beer here to relax in summer. Some people said it's relaxing to see staff members cutting boiled mutton in the restaurant.
Foodies who are keen on visiting Shenglihe Food Street have to leave home early because there are long lines outside famous restaurants during peak hours.