Display of queen's wardrobe includes outfit she wore at Great Wall in 1986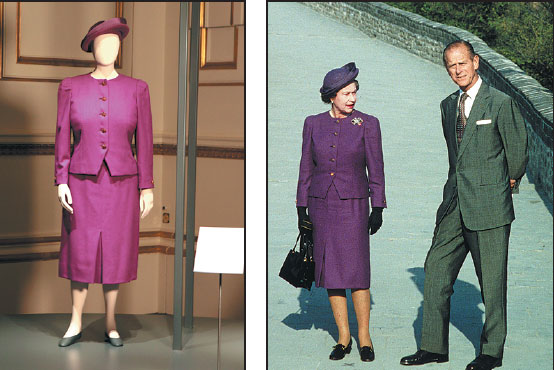 The dress worn by Queen Elizabeth II during her visit to the Great Wall in 1986, is on display during a special exhibition at Buckingham Palace to celebrate her 90th birthday. Wang Mingjie / China Daily Queen Elizabeth II visits the Great Wall with Prince Philip in October 1986. Provided To China Daily
To celebrate Queen Elizabeth II's 90th birthday, a special exhibition of the British monarch's wardrobe is on display through Oct 2 at Buckingham Palace.
The exhibition, Fashioning a Reign: 90 Years of Style From The Queen's Wardrobe, includes two outfits that the queen wore during her historic state visit to China in October 1986. Exhibitions also are scheduled for her two other official residences.
"The pink silk evening dress embroidered with sprays of tree peony blossoms, the national flower of China and a revered symbol in Chinese art and culture, was worn for a state banquet in Beijing," said Caroline de Guitaut, curator of the Royal Collection, which manages public events at the queen's official residences.
"The queen was the first British reigning monarch to visit China on a state visit, and it is a very key piece of her wardrobe on display here," she said.
Another piece that has a strong connection to China is the purple ensemble designed by the late Hardy Amies, a leading couturier who worked for the queen.
The queen was photographed wearing this ensemble when she visited the Great Wall of China with Prince Philip, the Duke of Edinburgh, in 1986.
The show at Buckingham Palace, featuring more than 80 dresses and 60 fashion accessories, examines how clothes and fashionable dresses have supported the queen in various roles as head of the state, head of the armed forces and head of the Commonwealth.
It presents the fashions of 10 decades, from the 1920s to the present, showing the unique requirements of royal couture. The Buckingham Palace exhibition, which opened on Saturday, includes ceremonial attire as well as outfits worn at family celebrations, such as weddings and christenings.
Wardrobes from the queen's early childhood, her wedding to the Duke of Edinburgh and her coronation, as well as outfits created for royal tours and state visits, also are represented.
Also on display is the dress she wore for the Thames River Pageant, part of the celebrations marking the queen's Diamond Jubilee in June 2012.Another very recognizable outfit is the one she wore when she appeared at the opening ceremony of the London Olympic Games in 2012.
Related:
Unveiling the secrets of Elizabeth II's wardrobe
Largest ever exhibition of the Queen's wardrobe planned for her 90th birthday