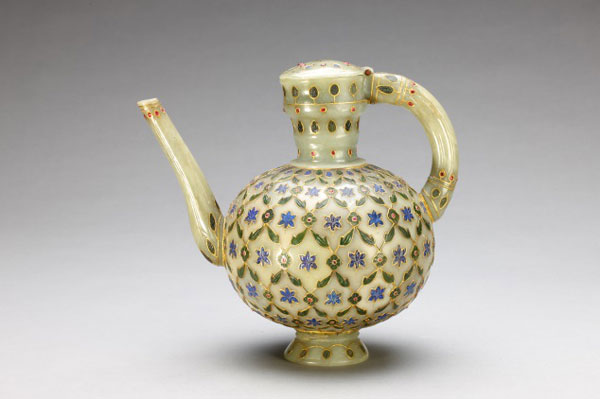 One-Handled Jug Inlaid with Gold and Precious Stones from India, 18th century. [Photo provided to chinadaily.com.cn]
At an exhibition called "Heavenly Crafted: Selected Mughal Jades from the Palace Museum", the Chinese University of Hong Kong is showcasing 40 exquisite pieces of jade artwork of Mughal style, a typical style during Mughal Empire (1526-1857) period, at the university's art museum from Nov 27 to Feb 28.
"The items on display are hand-picked out of 500 pieces of Mughal jade artwork collected by the Palace Museum," said Feng Nai'en, the deputy director of the museum, during the opening ceremony of the exhibition last Friday.
As the first such exhibition based on Mughal-style jades in Hong Kong and even the mainland, most items are on public display for the first time. The exhibition sponsored by Friends of Art Museum CUHK aims to showcase the achievements made in processing jade during the Mughal Empire and discuss the influence China and the empire had on each other in jade carving art, said Xu Xiaodong, associate director of Art Museum CUHK.
This exhibition is a result of the Memorandum of Understanding for a five-year framework signed by CUHK and the Palace Museum in 2014 and is the first project since the agreement was signed.
To better promote the exhibition, the Art Museum CUHK will also hold related symposiums, public lectures and invite Inder Singh Kudrat, an Indian jade artwork specialist, to Hong Kong to show Indian craftwork.