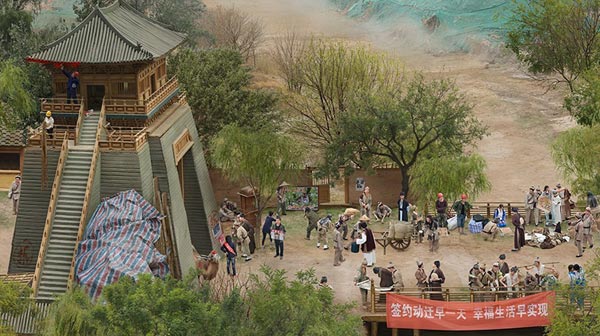 An adaptation of the famous Riverside Scene at Qingming Festival. [Photo/Agencies]
Dai's inserted modern social events into the ancient social environment, which appropriately reflected the peasant's method to solve problems in industrial or even post-industrial age, according to Guo Guanglin, a commentator from siyuefeng.com, a photographers' communication platform.
Song Zhipeng, another commentator from the platform, says it's rare for a photographer to put himself into his works, which in Dai's case are enormous and achieve a precise relationship between lighting, proportion and perspective. Song adds that Dai's work is a powerful metaphor and it's outstanding for the heavy labor and exquisite technique involved.
The new version can't compete with the original piece in overall aesthetic perception, but its ingenious integration of ancient background and modern phenomena is a bold innovation, according to Yang Xingdong, a commentator with Zhengzhou Evening News.
Yang says that public culture life needs satirical art to disperse negative energy coming off the seamy side of society, and Dai's work can prompt the public to do a little soul-searching and move forward.
Dai believes that an artwork will inevitably stimulate many different opinions. He wanted his work to be more than just satire but an approach to boost social development.
Some netizens asked Dai to stop smearing the themes of social prosperity, beauty and hope in the original painting with his sarcasm, while others gave Dai a thumbs-up, saying his work could go into the history books.
Related:
Dunhuang culture on display in Hong Kong