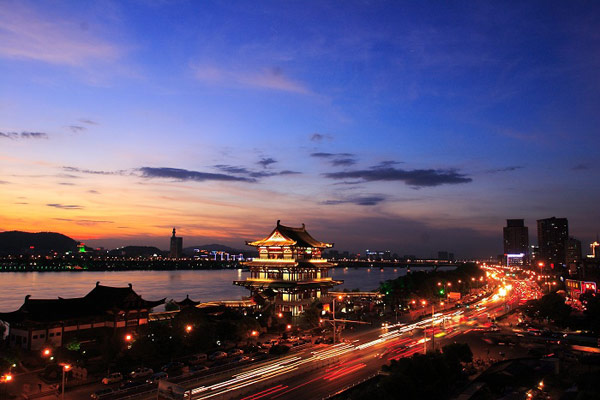 A night view of Changsha. [Photo/Xinhua]
The final selection of the 2017 Culture City of East Asia was held in Beijing on July 25. And the winner went to Changsha, the capital of Hunan province. Two other candidates, Harbin and Sanya, were both dubbed the 2017 Supporting Culture City of East Asia.
To ensure an open, fair and transparent selection, the Ministry of Culture set up a panel of 11 experts on international cultural exchange, public cultural development or protection of intangible cultural heritage.
Before the result was announced, Vice-Minister of Culture Ding Wei said: "We hope the selected city keep its promise and make a positive difference by furthering its cultural construction and external exchange."
The selected Culture City of East Asia will need to organize various cultural activities throughout 2017. The activities should focus on exchanging and sharing of experience in fields including cultural exchange and cooperation, the inheritance of intangible cultural heritage and the construction of public cultural service system. In doing so, citizens will more actively engage in regional cultural cooperation in East Asia. Meanwhile, the city will be more vigorous, famous and popular. In the end, culture will definitely benefit each citizen and the whole city.
At the China-Japan-South Korea Cultural Ministers' Meeting to be held in Jejudo in late August, three ministers will jointly confer the official certificate to Changsha and other two cities from Japan and South Korea.
The selection is the highlight of the trilateral cultural partnership under the instructions of top leaders. It has been held three times since 2013. Quanzhou, Qingdao and Ningbo were previous winners.