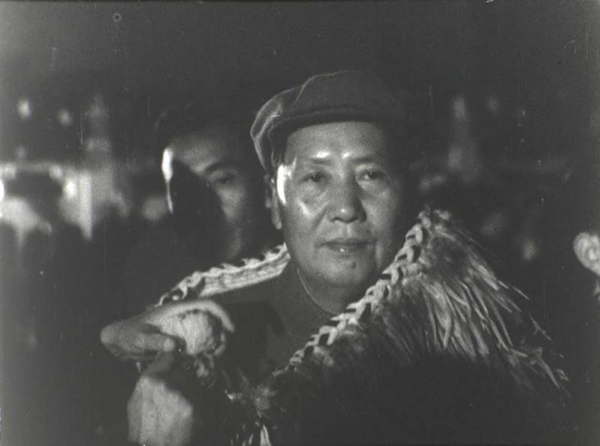 Mao Zedong wears Maori cloak in the documentary Inside Red China. [Photo/Inside Red China]
In almost every image of China's former leader Mao Zedong, he wore a simple shirt or jacket, in gray or brown. But there was an image on China's National Day, on October 10, 1957, where he put on his shoulders a cloak made of hundreds of feathers.
The rare image of Mao came to light in a 25-minute black and white documentary, Inside Red China, which was screened at the New Zealand Embassy in Beijing on Friday.
The documentary was made by independent New Zealand film-makers Rudall and Ramai Hayward, when they visited China after being invited by a Chinese association responsible for cultural relations in 1957.
The cloak was a gift presented by the Haywards to Mao at Tiananmen Square in Beijing.
Ramai described the moment she met Mao later in her book, New Zealand Women in China.
"Chairman Mao was standing with Premier Chou Enlai and indicated that I could present the cloak to Mao. He had an interpreter."
Ramai continued, "Mao greeted me, and then I put the cloak on his shoulders and tied it. I said 'We are the smallest nation in the world, giving this gift to the largest nation in the world.' He smiled and said, reassuringly, 'The smallest is as great as the largest.'"