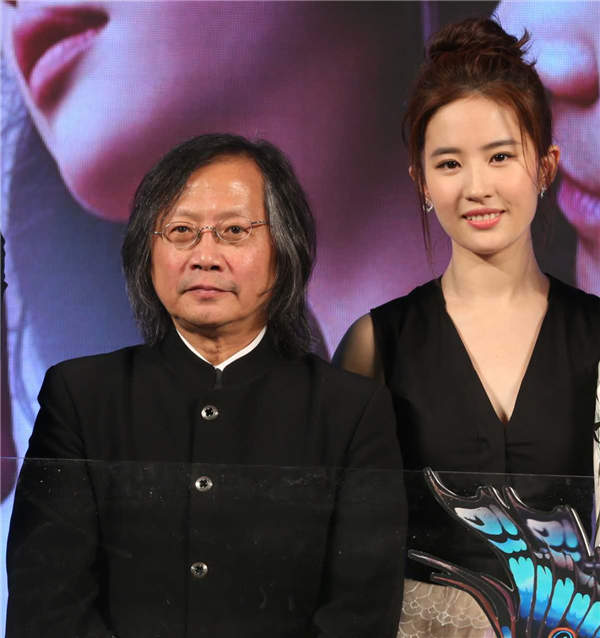 Director Dai Sijie and actress Liu Yifei [Photo by Jiang Dong/China Daily]
When the French flutist first meets the silk expert, he is kneeling to play the chiba, one of China's oldest musical instruments made of bamboo, as a tribute to silkworm chrysalises.
The chrysalises are killed by using high temperature to get their cocoons, the raw material to make silk.
The director says this part has a symbolic meaning.
"When a silkworm chrysalis breaks through the cocoon to reveal a beautiful moth, it is like gaining new life," says the director.
"The transformation from an ugly existence to a beautiful creature is a sublimation of life. Sometimes I think even humanity maybe like this," says Dai, with excitement in the eyes.
In the movie, the night peacock is seen as the only creature which can let humanity get hold of silk without killing the creature.
In addition to pondering the relationship between humans and nature, the film also touches on femininity.
Seen as the finale of Dai's "female trilogy", Night Peacock continues Dai's adoration of independent women.
His previous two films in the trilogy were Balzac and the Little Chinese Seamstress (2002), which was nominated for best foreign picture at the Golden Globes, and The Chinese Botanist's Daughters (2006).
"All the female leads in my movies have similar personalities. They are strong and independent. They don't rely on men, or want to be affiliated with them," he says.
A highlight of Dai's movies is his use of light and shadow to create an aesthetic world, even though some of the scenes are set against chaos and turmoil.