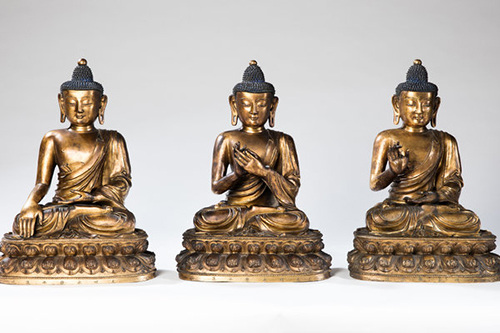 Ming dynasty gilt-bronze statues of seated Buddhas sold for 6.3 million euros (about 46 million yuan) at the Bordeaux, France, auctioneers Briscadieu. [Photo/Agency]
Chinese buyers are tracking down outstanding examples of their heritage in small auction rooms around the world in recent years, according to a New York Times' article released on March 12, 2016.
Recently, in France, a trio of Ming dynasty gilt-bronze statues of seated Buddhas sold for 6.3 million euros (about 46 million yuan) at the Bordeaux auctioneers Briscadieu to one of 20 Asian bidders in the sales room.
The 15th-century statues were estimated to sell in the range of 400,000 to 600,000 euros. The statues are believed to be an original set of five "Great Buddhas of Wisdom" from a provincial temple in China, which were in the old collection of a military doctor in Asia in the early 20th century.
According to European Fine Art Foundation's annual art market report on March 9, Chinese decorative art and antiques was one of the few auction sectors that grew in 2015.
Auctions which included Chinese porcelains, jades, furniture and other antiques increased at a small margin year-on-year from 2.1 billion dollars in 2014 to 2.2 billion dollars.
The strengths and weaknesses of the market for historic Chinese art were evident this month at the annual Asia Week New York promotion, which ran from March 10 to 19.
More than half a dozen looted Southeast Asian artifacts confiscated by US federal officials were on display at the promotion, but many Chinese buyers flew to New York for the event where dealers and auction houses made sales.
James Lally, a participating New York dealer, said China is creating new collectors every day, and when a Chinese buyer begins collecting, he always collects Chinese art.
At Lally's exhibition of ancient Chinese jades, 62 out of its pieces were sold ranging in price from $5,000 to $500,000. He added that about 40 percent of the sales at his show went to buyers from China.
Museums across the world continue to regard the best Chinese jades, Tang dynasty pottery figures, and Ming dynasty bronzes as timeless achievements of human civilization.
The new wealth of China still values this heritage and is prepared to pay for it.
The future of the market for Chinese art is exceptionally strong, and that future is in China, said John Berwald, a London dealer in Chinese antiques who exhibited at Asia Week New York.
Related: