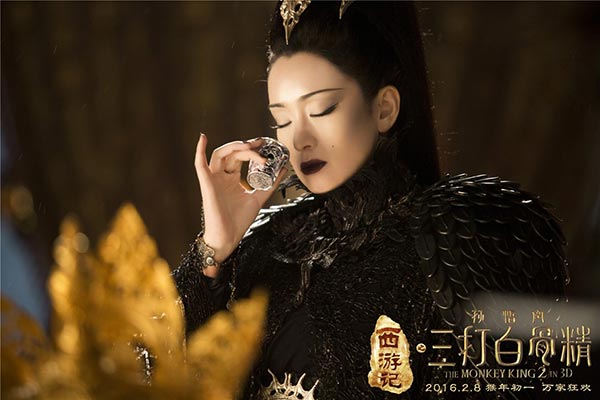 Actress Gong Li in The Monkey King 2. [Photo/Mtime]
Film a cultural ambassador abroad
As well as growing the market at home, authorities are hoping Chinese films can win more commercial success abroad.
On Feb 8, when The Monkey King 2 made its debut in Chinese cinemas, audiences in a dozen other countries, including the United States, Britain, Germany, Australia and Japan, could experience the charm of the film at the same time.
The SAPPRFT has organized for at least one Chinese movie to be simultaneously released in China and other parts of the globe every month.
"It's the right time for the Chinese film industry to reach out more to the world," said SAPPRFT film bureau head Zhang Hongsen.
Chinese films currently seem to have little appeal abroad. Their overseas sales were up 48.13 percent in 2015, but the films' takings of 2.77 billion yuan equaled just one tenth of box office sales in China.
Things may start to look up, especially after Chinese conglomerate Dalian Wanda Group announced its acquisition of leading Hollywood film producer Legendary Entertainment for $3.5 billion in January.
"Promoting Chinese movies overseas is not easy right now, just as the film industry reform launched in 2003 was not easy. However, we have faith and know we will make it in the end," said Zhang Hongsen.
Related:
The Mermaid sets China's box office record