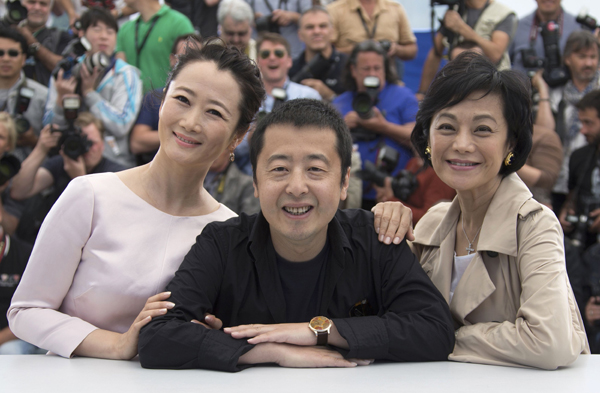 (From left to right) Cast member Zhao Tao, director Jia Zhangke and cast member Sylvia Chang pose during a photocall for the film Mountains May Depart (Shan he gu ren) in competition at the 68th Cannes Film Festival in Cannes, southern France, May 20, 2015. [Photo/Agencies]
Loneliness - a fate everybody has to face in life
Jia said his creative inspiration for the heroine Tao in the film Mountains May Depart came from his parents' experience.
Jia's parents were affectionate with each other. His father died suddenly in 2006 when Jia was busy with the post-production of his film Still Life in Beijing. Jia immediately put aside the work on hand and returned to his hometown in Shanxi province where he made arrangements for the funeral of his father.
The death of his father was a heavy blow for him. "My mother has become very lonely since my father died. The love from the children can never replace that from the affectionate husband," Jia said.
"My mother currently lives with us. I pay two visits to her everyday -- once in the morning and once in the evening. What is she doing and thinking about during the daytime? I don't know. She speaks to nobody. If my father were still alive, the old couple could help and comfort each other," said Jia.
"Since then I have come to realize that nobody can avoid loneliness at the end of life's journey. For a beloved couple, there is always a person who leaves first. Although the scene seems far away from me now, it still makes me feel very sad whenever I think of it," said Jia.
Connecting the heroine Tao of the film Mountains May Depart with his parents, Jia raised these questions to himself, imagining what Tao's life would be like in the future, and if she would have any new affections.
Related:
Chinese director Jia Zhangke to lead Toronto film festival's inaugural jury