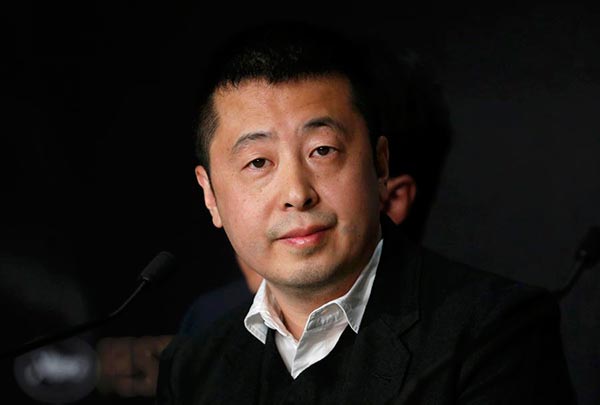 Chinese director Jia Zhangke attends a news conference before the opening of the 67th Cannes Film Festival in Cannes May 14, 2014. [Photo/Agencies]
After 11 days of buzz and excitement, the 40th Toronto International Film Festival (TIFF) came to a conclusion Sunday, with the film Room winning the top honor and Toronto filmmaker Alan Zweig taking the Platform prize from an international jury.
The top prize, the People's Choice Award, went to Room directed by Lenny Abrahamson, an Ireland/Canada co-production drama about a mother and son living life locked in a room by their abductor. The film, which was shot in Toronto, has already touted for Oscar attention.
Runners up were Pan Nalin's Angry Indian Goddesses, a female buddy comedy; and Tom McCarthy's Spotlight, a dramatic journalism procedural, which is also generating Oscar talks. Winter on Fire, which is about the ongoing conflict in Ukraine, took the Grolsch People's Choice Documentary Award.
The People's Choice Award was voted from among the 473,000 attendees announced at this year's TIFF. Dubbed the "awards season harbinger," the People's Choice gong has previously been won by Oscar winning feature films such as 12 Years a Slave, Slumdog Millionaire and The King's Speech.
Canadian filmmaker Alan Zweig was awarded the inaugural Toronto Platform Prize for his movie Hurt about iconic Canadian runner Steve Fonyo, who raised millions for cancer research with his cross-country run 30 years ago. Zweig took the highest CAD$25,000 prize after being chosen from amongst the 12 international artistic films.
"To get this prize from this jury, who are not a bunch of people from Toronto who know me, they're filmmakers those films are exactly the kind of films that I saw here that blew my mind and stretched me, it's amazing," said Zweig holding the Platform trophy.