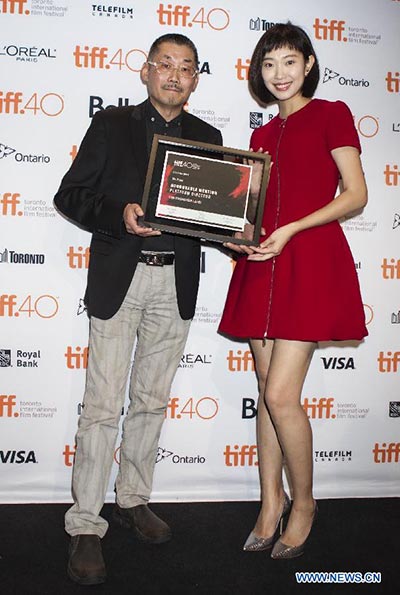 Director He Ping (left) and actress Wang Jiajia pose for photos with the honourable mention of the Platform Director during the awards ceremony of the 40th Toronto International Film Festival (TIFF) in Toronto, Canada, Sept 20, 2015. Chinese director He Ping's film "The Promised Land" received an honourable mention of the Platform Director of TIFF on Sunday. [Photo/Xinhua]
The Platform jury members at the just-concluded Toronto International Film Festival include China's Jia Zhangke, Holland's Agnieszka Holland and France's Claire Denis, all world-class auteurs.
The three jurors were only supposed to choose one winner, but also decided to handed out three honorable mentions to other films that impressed them: Gabriel Mascaro's Neon Bull from Brazil, He Ping's The Promised Land from China, and Pablo Trapero's The Clan from Argentina.
He Ping told Xinhua that it's a great encouragement to an experimental film like The Promised Land. "As a master of historical drama, He Ping in this film turns his spotlight onto current social changes in China, which impressed the jury most," Jia said.