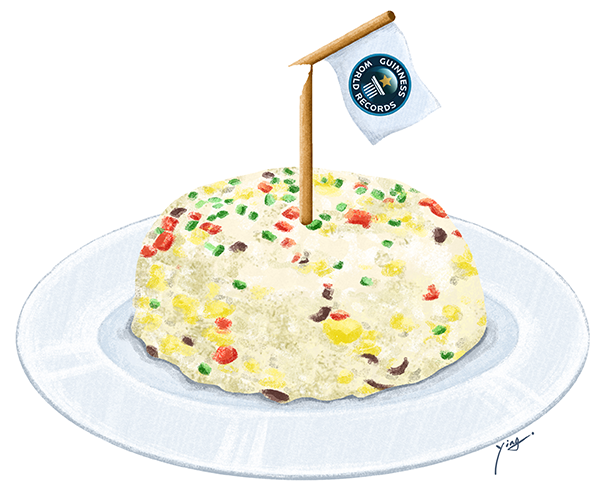 [Photo by Wang Xiaoying/China Daily]
With sights just on world records, people will go for such titles, forgetting their real meaning.
On Oct 22, a new world record was set in Yangzhou in East China's Jiangsu province: a Guinness for "the largest serving of fried rice". Four days later, the record was revoked amid torrents of public criticism and media reports.
The reason: At least part of the 4,192 kilograms of fried rice was wasted. Even though the organizers admitted only 150 kg of the rice was "improperly disposed of", the remainder was unaccounted for. It was supposed to have been distributed to schools, but no evidence was forthcoming.
According to one estimate, the cost of the 4-metric-ton plus portion would be 140,000 yuan ($22,200) and, if sold at the market price, would fetch several times that amount. Guinness cites its principle that no food be wasted as the reason for nullifying the new record.
But I guess few Chinese would have been surprised that a significant amount of food was simply trucked away as trash. It would have been more troublesome for the organizers to hand it out to those who needed it. As for selling it either at cost or with a reasonable profit margin, they couldn't care less because the event is at its core a non-commercial one.