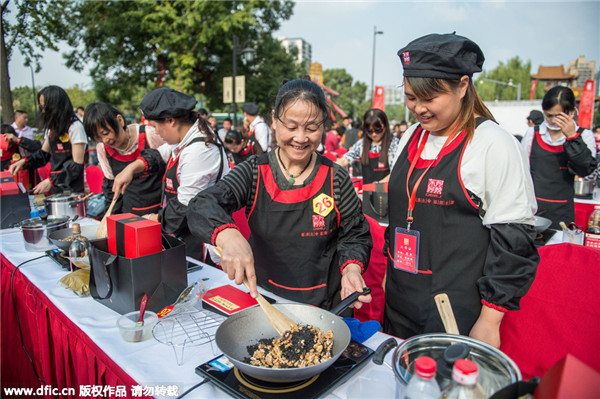 Hangzhou citizens participate in the activity of making ejiao snacks to celebrate the Double Ninth Festival. [Photo/IC]
More than 100 families in Hangzhou, East China's Zhejiang province, got together to make ejiao (or donkey-hide gelatin) snacks and write letters to family members in celebration of the Double Ninth Festival, which falls on Wednesday this year.
The event, also known as the Chong Yang Festival, is one of four ancestor worship festivals in China and is celebrated annually on the ninth day of the ninth month in the lunar calendar.
Typical celebrations include climbing a mountain and drinking chrysanthemum tea. Some also visit ancestors' graves to pay respects.
While the festival was named "elderly day" in 1989 and identified on the first national nonmaterial cultural heritage list in 2006, its origin can be traced to the Tang Dynasty (AD 619-907) where it was celebrated as a folk feast.
The day is also considered auspicious as Chong in Chinese means "double", and double ninth (or jiujiu) is pronounced the same as the word to signify "forever".
Ejiaogao, the ejiao candy snack which blends almonds, dates and sesame seeds, is produced in provinces including Jiangsu, Zhejiang and Shandong.
Ejiao is believed to be a blood tonic, helpful in curing a dry cough, dizziness and insomnia, and is a good gift to send to women and the elderly during the autumn and winter seasons, or during the Double Ninth Festival.