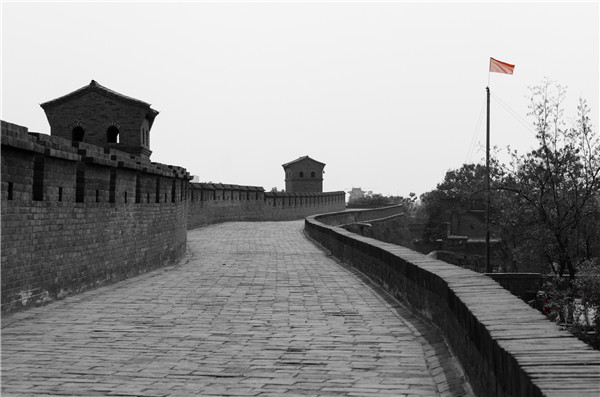 The city wall of the Old Town of Pingyao in China's Shanxi province. [Photo by Dave Randin/For chaindaily.com.cn]
At a glance, the Old Town of Pingyao astonishes me. Once a fortified city, then a financial center and now an archeological time capsule filled with 2700 years of history, Pingyao is China's best-preserved ancient community. Walking along the outer wall, one sees an endless sea of rooftops, watchtowers and marvelous gates. The houses are half-covered, with small courtyards in the center containing wells. Looking outward through the wall's crenels, one sees beautiful flower gardens and walking paths. Cars are off-limits on most streets, which adds authenticity to the experience. Throughout the city, you can feel history reverberating and see it continually unfolding before your eyes.
The city took root in 1370, during the Ming Dynasty (1368-1644), with a perimeter of 6.4 kilometers and walls rising 12 meters. There are 3,000 crenels and 72 watchtowers representing the disciples of Confucius and distinguished men.
From a bird's eye view, the fortified structure is said to resemble a turtle, leading to the coinage "Turtle City", to signify peace and prosperity.
Within the city walls, you can visit various heritage sites, including the Rishengchang Exchange, the first exchange shop and the start of modern banking in China. Inside are exhibits showcasing moments, frozen in time, of the bank's heyday. Ancient relics are on display along with the bank's hidden vault.
During the Qing Dynasty (1644-1911), wealth found its way to Pingyao through the Jin merchants and the establishment of the first bank.
As the merchants began to gain wealth, it became difficult and dangerous to lug around bulky coins. The Rishengchang was the first exchange to open in China, allowing merchants to use a system similar to checking accounts to pick up their money in different cities, rather than physically carrying valuable bullion, easy prey for highway bandits.
The bank used a cipher of characters to keep track of their records, and the vault was hidden in plain site using an underground passage disguised under a patch of grass. In the end, because of its clever tactics the Rishengchang was never robbed, and its legacy serves as a beacon of economic success in China.