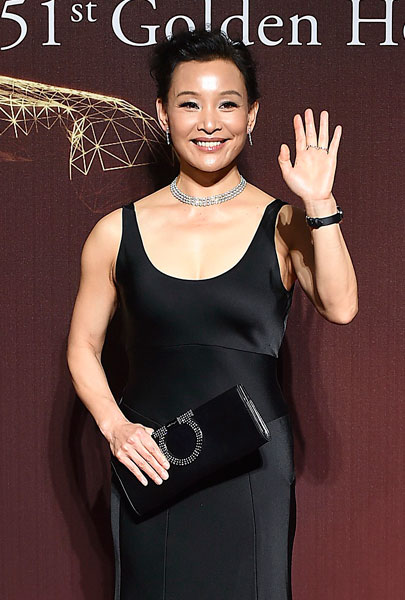 Actress Joan Chen at the 51st Golden Horse Film Awards in Taipei on Nov 22. Billy Dai / Reuters
Chen, born in 1961, made her name while still a teenager. Shortly after winning the most prestigious film awards on the mainland, she emigrated to the US and appeared in a dozen English-language works, most notably The Last Emperor.
Gong, born in 1965, took another road to international stardom. Her start in movies, although a decade later than Chen's, catapulted her to instant fame.
According to online sources, Painted Soul, a 1994 biopic about a Chinese artist in France, was to have cast Chen in the lead, but eventually opted for Gong.
The same year, Chen nudged Gong aside and landed the main role in a Hong Kong picture titled Red Rose White Rose. Chen won her first Golden Horse for her performance in this movie.
Chinese tabloids even dug out photos of both actresses wearing the same-designed gown to European film festivals as a manifestation of their simmering hostility. The stars also denied having seen each other, despite the existence of photos showing them together.
Facing criticism over her perceived "bias", Chen said in a statement: "I have always admired Gong Li's acting and I believe her acting in Coming Home is accurate and touching. For all three rounds of voting, I gave my vote to her."
The awards organizers said a nominee has to command at least half of the 17 votes to win. None had that many during the first two rounds in the best actress category. Insiders say that Gong eventually lost by one vote.
So, who is the biggest loser in this showbiz brouhaha? Some said Gong because she was not graceful in losing; others pointed to Chen because she is perceived as being a member of an older generation jealous of a slightly younger one. Some others felt it was the Golden Horse Awards themselves.
Whatever verdict you reach, it is surely an episode of high drama that only stars of this caliber can create with just a few emotion-tinged words.