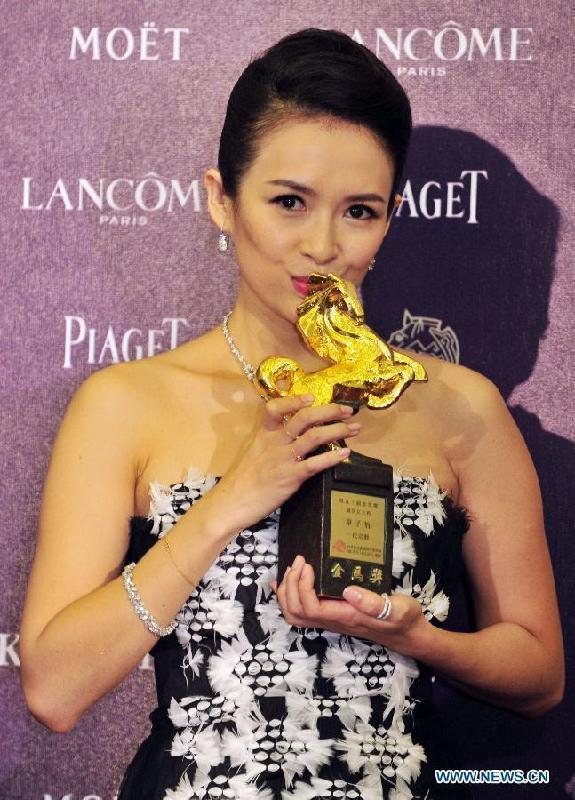 Zhang Ziyi poses for photos after winning the Best Leading Actress for the 50th Golden Horse Film Awards in Taipei, Southeast China's Taiwan, Nov 23, 2013. The Golden Horse Film Awards are one of the biggest Chinese-language film industry's annual events. [Photo/Xinhua]
TAIPEI -- Iconic Chinese movie star Zhang Ziyi won the best leading actress award at the Golden Horse Awards, considered the Chinese-language Oscars, for her performance in the film "The Grandmaster."
The award ceremony, which also commemorated the 50th anniversary of the Golden Horse Awards, was held late Saturday evening in Taipei.
"The Grandmaster" is a Chinese martial arts film based on the life story of the Wing Chun grandmaster. It was the opening film at the Berlin International Film Festival in 2013.
Mainland actor Li Xuejian nabbed the best supporting actor award for his role in the film "Back To 1942" by director Feng Xiaogang. The film is about a deadly drought in 1942 afflicting central China's Henan Province during the war against Japanese aggression.
The best actor award went to Lee Kang-sheng from Taiwan, and the best feature film went to Singaporean film "llo llo."
Ang Lee, the two-time Oscar-winning Taiwanese director, chaired this year's jury.