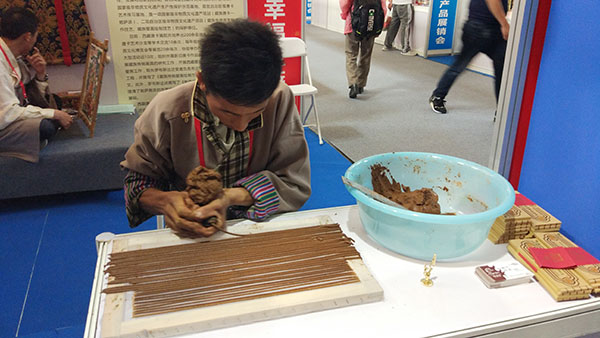 A man makes Tibetan incense at the exhibition in Beijing. [Photo/chinadaily.com.cn]
A week-long Tibetan product exhibition closed on Monday, after attracting about 23,000 visitors.
A total of 15 companies with 81 products, such as organic health products and special handicrafts, from the Tibet autonomous region exhibited in Beijing over the week from September 14-19.
Tibet's organic health products were popular at the exhibition, including those made of yak, cashmere and plateau milk, as well as Tibetan medicine.
Those who make Tibetan incense and paint Thangka also showcased their intangible cultural heritage at the exhibition.
The value of sales reached more than 700,000 yuan ($100,000), while a total amount of 67 million yuan in sales contracts was signed.
The exhibition was held by the Beijing municipal government. Beijing is responsible for helping Lhasa and other cities alleviate poverty. The exhibition invited business people from those places to showcase their products, in a bid to boost their economies.
Poverty alleviation has been a core mission since President Xi Jinping took office in 2013.
Since then, Lhasa city has promoted healthy green products and focused on nine fields for development, such as water, dairy products, vegetables, Tibetan pork and chicken, as well as Tibetan mushrooms, according to the municipal government.