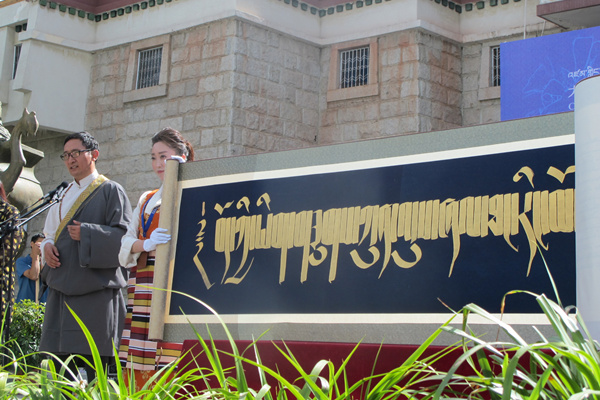 Gemang showcases his work during the calligraphy exhibition ceremony at the Tibet Museum. [Photo by Palden Nyima/chinadaily.com.cn]
A calligraphy scroll 267 meters long and 86 centimeters wide, containing 190 traditional fonts and more than 40 portraits of well-known calligraphers, went on show at the Tibet Museum in Lhasa on Friday.
It took its creator, Gemang Jampal, four years to finish.
The 48-year-old has been learning Tibetan calligraphy for 35 years, and created some of his own fonts to make the scroll, which also features three Tibetan classics as part of its content.
"I hope more people will become interested in Tibetan calligraphy, and I also expect such valuable culture will be better preserved," he said.
"It is the first time my scroll has been exhibited in the Tibet Museum. I am grateful to them for providing me with this great opportunity."
In a bid to promote Tibetan calligraphy to a wider audience, Gemang Jampal has opened an official WeChat account called the "Calligraphy Platform", which brings together more than 400 calligraphers from across the Tibet autonomous region and further afield.
"It is amazing and beautiful," said Jan Lindsey, a tourist from the US.
Dadron, deputy curator of the museum, said: "Hosting such an exhibition is part of our efforts to make the museum a place that preserves and promotes Tibetan traditional culture."
"In this way, we want to improve the public service we provide, and this is the first exhibition of its kind held on such a scale."
Following Friday's preview, the calligraphy exhibition at the Tibet Museum in Lhasa will officially open on Aug 17 and run until Oct 10.