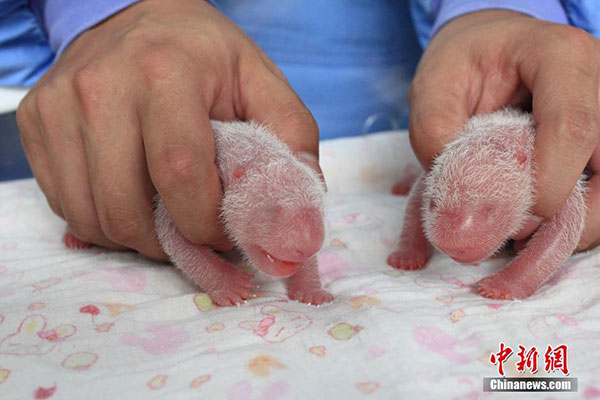 The twin pandas are shown in this photo taken on Thursday, Aug 4, 2016. [Photo/chinanews.com]
CHENGDU -- A 10-year-old giant panda from the China Wolong Giant Panda Protection and Research Center gave birth to a pair of twins at a nature reserve in southwest China's Sichuan Province during the early hours of Thursday.
The newly born cubs are the heaviest newborn panda twins to ever have been born since weighs have been recorded. The male and female cubs weigh 181.7 grams and 220g, said Luo Bo, an official with the center's Bifengxia Panda Base in Ya'an City.
Generally, cubs weigh around 150g, according to Luo, who also noted that it is rare to find twins that both weigh more than 180g.
"The increasing weight of newborn cubs shows that the mothers are healthy and eating well," said Luo.