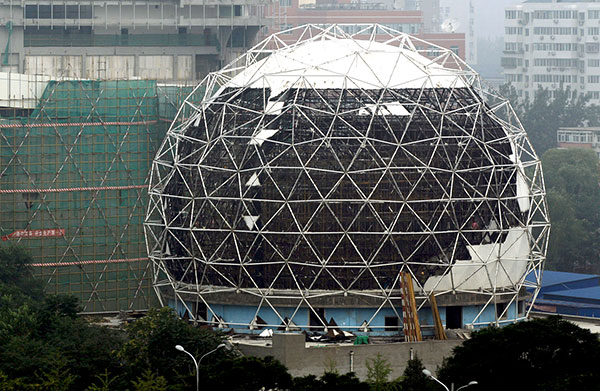 Work proceeded to dismantle the museum's old dome on July 4. CHENG GONG/CHINA DAILY
After lying dormant for seven years, the iconic original venue of the China Science and Technology Museum in Beijing's Chaoyang district has begun a metamorphosis. When work is completed, the classic site will enter the spotlight once more as a place for planting dreams in a new generation of young scientists.
In 2009, a new museum building was completed 5 kilometers to the north, and original site was shuttered. But nostalgia for the old museum, with its distinctive dome theater, remains strong.
"I went there almost every weekend in my elementary school years," said Li Shuang, who now works in finance. "I was really fascinated by the exhibits. Many kids lined up for the Van de Graaff generator, where your hair stood up when you touched the static electricity sphere."
Opened in 1988, the museum had been a favorite of residents, especially teenagers. After the round theater opened in 1995 and the museum was expanded in 1990, its eye-catching shape became a well-known landmark in Beijing.
For its time, the museum was the most advanced in China, giving visitors a jaw-dropping experience.
"It didn't pale by comparison with even Disneyland or Universal Studios," said Cai Heng, a Beijing entrepreneur.
Now, the shell of the old museum's dome is being removed, and scaffolds have been set up around the compound for other reconstruction work.
After a seven-year rest, the venue is about to get a new start-a renovation that builders say will transform it into an exciting a new science compound.
The dome theater will be rebuilt based on the original look, but with modern construction materials to replace the rusty old structure.
When completed, the facility will be called the Beijing Science Center. Preliminary plans feature permanent exhibits in the life sciences, nature and environment, and new technologies for daily life. It will also have independent educational zones for students and young children-and, of course, the dome theater, which is scheduled to open by mid-2017.