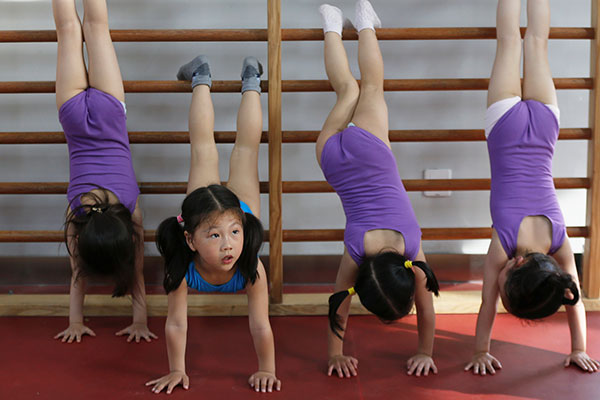 Girls do handstands during gymnastics lessons at the Shanghai Yangpu Youth Amateur Athletic School in Shanghai, May 4, 2016. [Photo/China Daily]
In a room full of bright-colored cubes and giant mattresses, giggling children climb bars, try somersaults and walk gingerly on a low balance beam. Some stand on their hands, showing off their bellies under the guidance of four coaches.
It was pure fun for 8-year-old Lucy Huang. Her parents have modest goals for her progress: they hope the lessons help her stay fit, improve her balance, and help brain development.
"I love it here because there's lots of fun. I love doing flips forward and backward, and I like the rings," she said in one breath while sitting on the balance beam, her legs dangling.
The scene in downtown Shanghai might be common in Western countries but is a rare sight in China, where parents have eschewed gymnastics lessons for their children. The mere mention of gymnastics usually evokes stereotypical, decades-old images of little boys and girls tearfully practicing splits, under the watch of strict coaches, all for the chance at an Olympic gold.
This summer, Chinese athletes that primarily grew up in the sports system are still expected to dazzle the world and scoop up dozens of medals when the Summer Games open in Rio.
But at home there are strong efforts to reform a system that is struggling to recruit the next generation of stars despite its glorious records of churning out hundreds of Olympic medalists.
After decades of rapid growth, China has become the world's second-largest economy. Its people have much fatter wallets and far more life choices for themselves and their children.
"Parents these days want their children to enjoy a normal life," said Cheng Liang, a former national champion in artistic gymnastics. Because of injuries, he dropped out before the 1996 Atlanta Games.
It is a far fetch to think Lucy, the girl in Shanghai, and her playmates may one day compete for China on a world stage. Yet the reason she can learn gymnastics at all is a reflection of changes that have made the sport recreational instead of a career choice.
Chinese sports officials believe the answer lies with popularizing sports. Road-running and swimming are also beginning to take root among the public and are especially popular with members of China's growing middle class.
"How can you popularize a sport that is widely considered to be extremely difficult, tiring and dangerous?" said Wang Tongjie, director of gymnastics at China's General Administration of Sport.
There are only 7,000 registered Chinese gymnasts, Wang said.
Cheng, the former champion, started to look for opportunities in China after the 2008 Beijing Olympics. By 2012, he set up the country's first private gym club in the eastern city of Changzhou, catering to toddlers and children. He and his brother opened two more in Shanghai in late 2015 and signed up 300 members within six months. Annual membership costs more than $2,000, but families with decent incomes see it as a good investment in their children.
There are now 35 private gyms across China, and they have the support from the country's sports administration, said Wang. She is also pushing to introduce gymnastics in more kindergartens and grade schools across China.
"We have to change the public opinion of the sport, and we've found it necessary to put the word 'happy' before gymnastics," Wang said.
By Associated Press in Shanghai