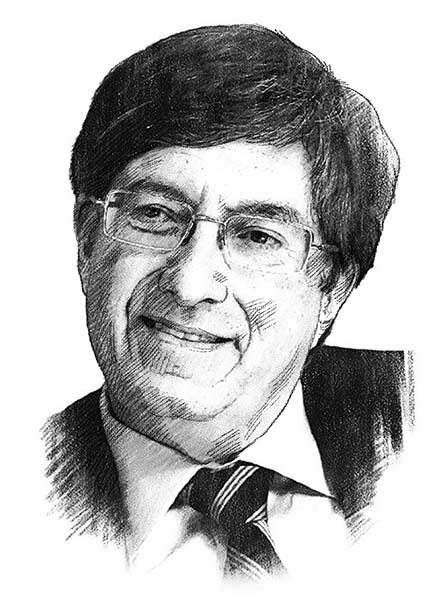 Jeffrey S. Lehman, vice-chancellor, NYU Shanghai [Photo/China Daily]
A1 The government's strategy for having China avoid the middle-income trap includes the construction of a 21st century innovation economy led by private enterprises. New private enterprises continue to be launched every day, and they exemplify the tremendous potential that is here, available to be tapped. Given what a challenging year 2015 was for the global economy, I was impressed by the continuing growth in China's median-level family income, as well as by the continuing decline in China's level of energy consumption per unit of GDP.
A2 A 21st century innovation economy must be powered by the energy of young people for bold acts of creativity, innovation and entrepreneurship. Research has linked human creativity to people's intellectual breadth, their ability to frame new questions, their ability to seek new answers to old questions, and their willingness to risk being wrong-even failing. I hope the government's first priority will be to keep pushing China's best universities to accelerate their transformation into academic systems whose curricula, teaching methods and campus cultures reflect this research and are designed to nurture students' creative and innovative talents.
A3 I'm not an economist, so I only know the predictions I read. The consensus appears to be one of continued gradual slowing, converging toward rates that are more typical of economies at China's stage of economic development. I expect a continued focus on growing the services sector, on growing manufacturing that satisfies the highest international standards of quality control and environmental responsibility, and on financial market reform.
A4 Almost incalculable economic, cultural and social benefits have resulted as the world's countries have become more open and their people have become more interdependent. That developmental path enables us all to appreciate the opportunities created when people from different cultural traditions cooperate with one another. We discover new, more complex ways to understand the world, as well as new, more-effective ways to pursue opportunities and face challenges. The next five years carry the potential for breakthroughs across an enormous spectrum of activities, including healthcare, food safety and environmental sustainability, and China's participation in those efforts will be invaluable.
A5 I would welcome the chance to hear the premier's thoughts on two subjects. First, I wonder how he would evaluate the progress China made over the past year toward becoming a model "fair opportunity society". Second, I wonder how he would evaluate progress toward the comprehensive advancement of the rule of law in China, pursuant to the priorities of the fourth plenum. Naturally, I would want him to know that there is a community of foreign experts working in China who would gladly help the government's efforts in those domains.