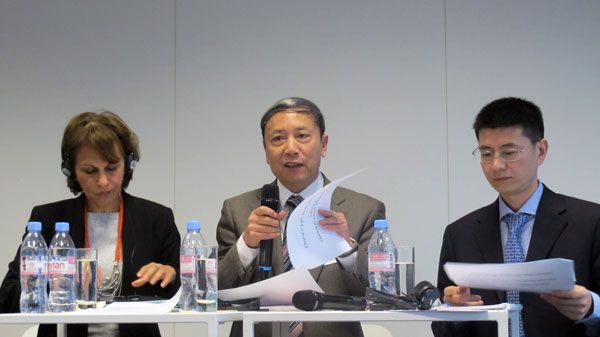 Cai Fang (center), Vice-President of the Chinese Academy of Social Sciences, laid out China's 13th Five-Year Plan's priorities, goals and opportunities for the EU Tuesday in Brussels. [Photo/chinadaily.com.cn]
China's new five-year blueprint is a blueprint for the country's most crucial development period and offers opportunities for the EU, Cai Fang, Vice-President of the Chinese Academy of Social Sciences told a Brussels seminar on Tuesday.
Cai, who is also a member of the advisory board of the 13th Five-Year Plan on National Economic and Social Development of China, addressed a seminar held by the Brussels-based think tank Friend of Europe.
He said that next five years is a critical period for China's development, since the country has to reach its "comprehensive well-being society" goal by 2020. In addition, China has to accomplish "two doublings", to be more precise, GDP doubling and per capital income doubling by 2020 as well.
The 13th Five-Year Plan is special because China must avoid the "middle-income trap" and enter the high-income stage of economic development, and success depends on the direction the plan takes, Cai said.
He said that five development concepts stand at the core of the new Five-Year Plan, namely innovation, coordination, greener development, open development and shared development.
"To reach these goals, new methods of implementation and new policy measures are to be adopted, " he said.
"In order to achieve this, we have to keep our economic growth at a moderately high level," said Cai.
Cai said that instead of fixing a specific target for economic growth as in past decades, this time the government is referring to a broader definition for growth expectations: moderately high growth, which is both a qualitative and quantitative goal under the 'New Normal' description of China's economy.
He indicated that the slowdown of Chinese economic growth is being driven by domestic structural changes, as starting from 2010, the working-age population (those who are aging between 15 and 64) has been in decline.
"It is not easy as economic growth has been slowing down since 2012," explained Cai, " and as long as we are under the 'New Normal,' the growth is continuing to slow down."
He said that the average economic growth rate has to be maintained at 6.53% for the next five years. However, according to analysis and study by Cai's team, the potential economic growth will be around 6.2 % from 2016 to 2020, compared with almost 10 % before 2010 and 7.6% during the last Five-Year Plan.
The essential problem is how to tackle the gap between 6.2 % and 6.53%, and Cai added that through the combination of potential economic growth and reform dividend,the required moderately high speed can be realized.
At present time China is undertaking series of reforms, and taking urbanization reform as an example, Cai said that when 170 million migrant workers become integrated urban residents, '3 birds can be hit with one stone.'
Firstly, the labor supply will be increased. Secondly, labor mobility will continue so that re-allocative efficiency can be gained. Finally, domestic consumption will be further expanded.
"By doing so, we enhance labor supply, productivity as well as fertility rate, which can spur potential growth by 1 %," he added.
Nevertheless, Cai said urbanization reform is facing big challenges. For example, the majority of migrant workers are trying to move to mega cities such as Beijing, Shanghai and Guangdong, ignoring the fact that second-line cities' reform of resident registration, or hukou, is much more open.
"The huge migration brings traffic jams and pollution to the big cities, and not only is it hard for them to get local hukou, but also many of them can't enjoy full package of social welfare," said Cai.
"The management capacity and ability of these mega cities isn't qualified enough for such huge populations and there is a deficiency of local finance, so we still impose high restrictions on hukou in big cities.,'' he said
Aging society is another crucial problem for China right now. For Cai, this can been seen as a 'Demographic Debt' but also as a second chance for a demographic dividend which boosts the development of health industry, education industry and tourism industry.
"What we need to do now is to extend the demographic dividend in small cities and towns by enhancing the local employment rate and promoting social welfare on one hand; on the other hand we need to accelerate the hukou reform in middle-sized cities. The urbanization rate right now is 38% and our goal by 2020 is 40%, which means the annual growth should be around 1.3% and every year 16 million migrants will become city residents with local residency rights.
Although urbanization reform is progressing slowly, China's financial system reforms and continuing opening-up have seen many early results. As Yao Zhizhong, Deputy Director of the Institute of World Economics and Politics at the Chinese Academy of Social Sciences pointed out, China has been balancing its exports and imports, and its economic growth model has been transmitted to domestic consumption and foreign investment.
Cai believed that China's 13th Five-Year Plan will bring numerous opportunities for Europe.
The innovative development means more international cooperation in science, technology and education, he said.
The coordinated development will open more opportunities for European enterprises to invest in less well-developed regions of China. Greener development will demand more high-tech and investment in environmental protection and carbon emission.
Shared development will expand the scale and scope of consumption with bigger middle-income appetite for expenditure on cultural, tourism and high-quality consumer goods. And the open development offers even more potential opportunities, he said, in a reference to the "One Belt One Road" initiative.
Shada Islam, Director of Policy at Friends of Europe, said she had high expectations of the new five-year plan. She said that it's important for Europeans to understand the complexity and intricacy of China's development, the challenges and struggles it faces in next 5 years.
"We need to know that China is on a reform path and it is important for us to know that huge transition is taking place in China. There may be obstacles on the way, but long-term goals are still there and they are reassuring for us," said Islam.
To contact the reporter: fujing@chinadaily.com.cn