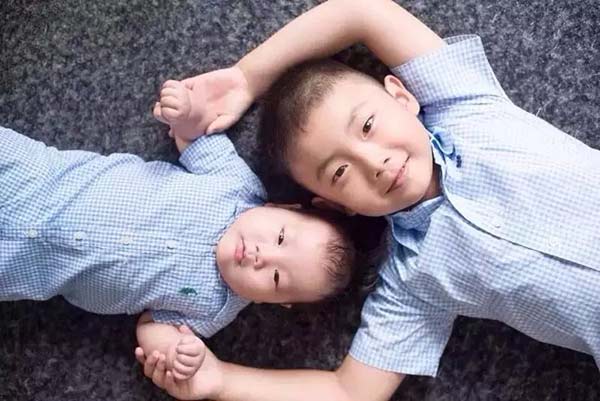 A boy with his younger brother. [Photo provided by Zhai Xiaoyan to chinadaily.com.cn]
BEIJING - Chinese lawmakers are considering amending the family planning law to allow couples to have two children amid efforts to counter a shrinking force and an aging population.
"The state advocates that one couple shall be allowed to have two children," according to a draft amendment submitted for review at the bi-monthly session of the National People's Congress Standing Committee, which opened on Monday.
The draft came after the Communist Party of China (CPC) Central Committee decided in October on the universal two-child proposal, which will replace the decades-long "one couple, one child" policy.
Li Bin, head of the National Health and Family Planning Commission (NHFPC), said the CPC's decision was made to adapt to China's changing population.
The top legislature must amend the family planning law in order to implement the October decision. The current law took effect in 2002 and contributed to stabilizing a low birth rate and guaranteed the healthy and steady development of family planning, Li said.
Under the current law, citizens who marry late and delay having children may be entitled to longer marriage and maternity leaves, and couples who volunteer to have only one child are rewarded.
These articles were deleted in the draft, which stipulates the new law would take effect on Jan. 1, 2016.
The amendment will not affect the benefits received by the older generation who abided by the current family planning law, parents with only one child and parents whose only child is disabled or deceased.
While clarifying the draft, Li told lawmakers at Monday's session that people receiving rewards and assistance before the amendment will continue to receive them afterwards.
The draft also allows couples of reproductive age to make their own choices on contraceptive methods.
The draft no longer stipulates that couples shall accept technical services and guidance on family planning.
Medical institutes will be able to employ assisted reproductive technology after authorization based on their personnel, facilities and ethics, according to the draft.
Trade of sperm, eggs, fertilized eggs and embryos is forbidden. Surrogate pregnancy in any form is also not allowed. Those involved in such actions will receive punishments ranging from warnings and fines to criminal penalties, according to the draft.
China's family planning policy was first introduced in the 1970s to rein in the surging population. For decades, most urban couples were limited to one child and rural couples were allowed to have two children if the first child was a girl.
After long-term efforts, the rampant growth of China's population has been contained and quality of life for the population has risen substantially.
Since its implementation, the policy has resulted in an estimated prevention of some 400 million births in China, but it has also been blamed for generating a number of social problems, mainly a decreasing labor force and an aging population.
In 2013, China relaxed its birth rules, allowing couples to qualify for a second child if one of the partners is an only child.
The one-child policy was abandoned at the Fifth Plenary Session of the 18th CPC Central Committee held in October this year.
The change of policy is intended to balance population development and address the challenge of an aging population, according to a communique issued after the October meeting.
Experts believe the policy to allow a second child will affect 100 million families around the country.
The change is expected to result in more than 30 million more people in the labor force by 2050 and a two-percent decrease in the proportion of elderly in the Chinese population, said Wang Peian, deputy head of the NHFPC, at a press conference held in November.
The total population will increase slightly, with a peak of 1.45 billion in 2029, Wang said.
Teng Wenli, a 33-year-old university teacher and mother of a six-year-old girl in northwest China's Shaanxi Province, is excited about the timing of the new law.
"I am a little worried, as more children mean more pressure and cost, but my husband and I decided to have a second child. Our daughter needs company."
Yuan Xin, a professor at Tianjin's Nankai University, said the policy change was based on current conditions. "It is right that policies should be adjusted constantly to adapt to demographic change."
Experts said that due to the rising cost of education and child-rearing, there is no risk of a population surge after the new law is enacted.
Chinese people have traditionally relied on their children to help them in old age, and it was once thought the more children the better, but attitudes have changed in recent years.
For Wang Jixiang, a mother of a boy in Xiadianzi Village in north China's Chengde City, one child is enough.
"My husband and I hope to live prosperous lives and we don't worry about elder care when we are old," she said. "We don't need more children."
Adopting the two-child policy is also expected to boost China's economic growth rate by about 0.5 percent, Wang with the NHFPC said.
Enterprises are finding it harder to replace older workers with younger ones. The amendment would ensure a high-quality future workforce for China's economic development, said Wu Fenggang, an economist with Jiangxi Provincial Academy of Social Sciences.
China's top leadership also called for adherence to the family planning policy as basic state policy.
At a meeting presided over by CPC Central Committee General Secretary Xi Jinping last week, the leadership urged improved birth registration, coordinated policies in education, social security, and employment and appropriate distribution of public services.
Women and children's medical care should be improved, and medical workers should be better trained. The meeting also called for strengthened support to families that follow the family planning policy.