Leading government officials will be audited on their performance on environmental protection based on an evaluation of natural resources records, a practice expected to expand nationwide by 2018.
The audit results will be a major criterion for official performance, and those found accountable for environmental pollution will face harsh punishments even beyond their terms, as China focuses more on eco-civilization.
The pilot audit project, launched this year, will focus on leading officials who are about to leave office. It will audit changes in natural resources such as land, water, and forest within the officials' administrative zones during their terms, and will analyze the reasons for any change, said Chen Chenzhao, deputy auditor general of the National Audit Office, on Thursday.
During the audits, decreases in natural resource assets or serious pollution will be evaluated for accountability based on data, according to the pilot plan.
"It's a completely new task of reform without precedence," Chen said, adding that it will be an effective way to prompt officials to change their views on achievement and perform their duties better in protecting the environment.
It is likely to take two years to conduct pilot audit projects in some regions in order to gather information, evaluate the data and use the audit results, Chen said.
To cooperate with the environmental auditing of leading officials whose terms are ending, the National Bureau of Statistics will provide a more detailed database of natural resources, the basic information to be used for evaluating officials' performance under the new plan.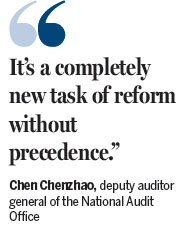 The contents of natural resources balance sheets in China, which will use increasingly detailed data, mainly cover land, forest and water resources, such as the use of and changes in the stocks of forest areas, cropland and grassland; the volume per unit area of natural forests; and the condition of surface water and groundwater resources, said Xu Xianchun, deputy head of the statistics bureau.
The natural resource inventory sheets will track the stock of, and changes in, natural resources over a year, he said.
Leading Party and government officials who are found to be accountable for harming the environment will face harsh punishment under a recently released regulation from the Organization Department of the Communist Party of China's Central Committee.
Under the regulation, they must make a public apology, will be removed from their leading position, cannot be promoted for at least one year, and will also be held accountable beyond their terms.