Some mobile apps - developed to reduce teachers' workload and improve students' learning efficiency - were on people's minds, generating discussion about their growing usage.
Chinese teachers and students are known for maintaining a heavy workload and diligence in education. Research conducted by Knowbox, a K-12 Internet education company in Beijing, found that each Chinese primary or middle school student has to spend at least one and a half hours a day working on an average of 30 assignment questions.
And teachers have to spend around two hours, or one-fourth of their work time each day, grading these questions, according to the company's research.
To address these concerns, several mobile apps have popped up, aiming to save teachers from the time-consuming daily routine. Some apps, such as Homework Box released by Knowbox in March, have gained wide usage.
Teachers can assign and correct homework and review data using a mobile phone or a tablet.
According to Jia Xiaoming, chief marketing officer of Knowbox, the app has been used by more than 4,000 teachers and 250,000 students in seven cities in China, such as Beijing and Shanghai.
It was praised by teachers for saving them from traditional paperwork and making it easier to master students' overall and individual performances, Jia said.
"A recent pilot program in Beijing's Dongcheng district showed that teachers could save an average of half an hour a day correcting students' homework after they used the app," he said.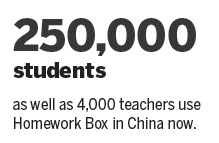 Such Internet-based apps have also been welcomed by students, since they can offer a better and more interesting study experience.
Yu Tong, a Beijing resident whose fifth-grader is using such apps, said her son is showing more interest in doing homework than before.
"Some apps have rankings in terms of speed and correction rate of doing homework," Yu said. "Children are doing homework in a faster and more concentrated way under the motivation of competition."
However, Wang Haifeng, a resident in Beijing, has forbidden her 8-year-old son from using any of these apps.
"I'm afraid that using such apps to do homework too often may harm children's eyesight," Wang said.
Chu Zhaohui, a senior researcher at the National Institute of Education Sciences, said that doing and correcting homework through mobile apps should be used as an alternative rather than a requirement.
"Each subject has its own best way for learning, and mobile apps can't meet all these demands," he said.
zhaoxinying@chinadaily.com.cn
(China Daily 09/12/2015 page4)